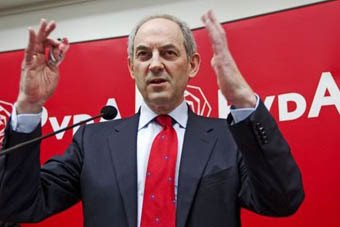 Rising support for the Dutch opposition Labor Party is putting it in a dead heat with Prime Minister Jan Peter Balkenende's Christian Democrats and may block an anti-Islam party's bid for power in June elections.
Labor candidate Job Cohen, the former mayor of Amsterdam, was officially named party leader at a congress today in Nijmegen, the Netherlands. His surprise candidacy sent the Labor Party, which favors lifting taxes on the highest earners, from third place to the top of opinion polls. Labor's rise coincides with the slump to fourth place of Geert Wilders' Freedom Party, which wants to ban headscarves and new mosques.
Cohen, whose popularity rose after he helped keep the peace following the killing in Amsterdam of filmmaker Theo van Gogh by an Islamic extremist in 2004, contrasts with Wilders, who is being prosecuted for comments in his 2008 film "Fitna" in which he calls on Muslims to rip out "hate-preaching" verses from the Koran.
"I want to live in a land where civilization is not an old-fashioned word," Cohen told the party congress today, "where ambulance staff can work without being harassed, where the elderly can walk the streets safely to visit their children, where nobody is called names; not Jews, not gays, not Muslims."
Cohen, 62, a former law professor and rector at Maastricht University, rules out any coalition with Wilders. "The Netherlands has always been a country of minorities and we have succeeded in living together in a decent way," Cohen, said when presenting his election program on April 7. "Newcomers and inhabitants who, despite differences in religion, culture and tradition, choose a joint future."