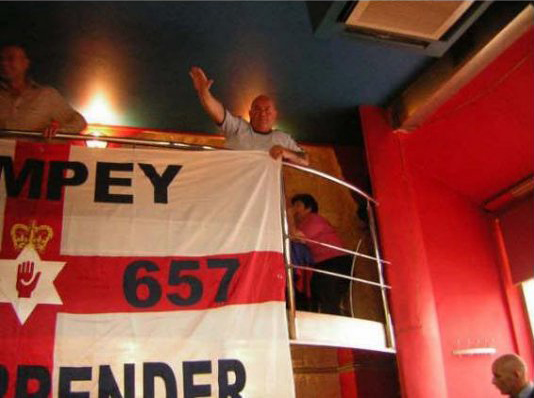 A pub landlord pictured with his arm aloft in front of an Ulster flag says: "I was just pointing to a television screen."
The photograph of Barry Smith has been circulated on the internet by campaigners who claim it appears to be a Nazi-style salute. But Mr Smith insists that his pose in the photograph, taken by one of his friends in a German bar as they watched a TV broadcast of a match in the 2006 World Cup, is innocent.
It was republished on the website by the campaign group Portsmouth Nazi Watch, having first been posted by Mr Smith on his Facebook page. Mr Smith, who runs The Alma Arms, in Highland Road, Eastney, says he has since deactivated his Facebook page on advice from police.
The Portsmouth Nazi Watch website republished the photograph of Mr Smith next to the red hand flag of Ulster, on which appears the number 657, with the caption "Barry Smith 'sieg heiling' above 657 crew football hooligan flag". But Mr Smith denies any wrongdoing. "The picture was taken by one of my friends," he said. "It's been cropped down. It's a picture of me pointing to the television screen and at the women in the bar."
A video uploaded on the Portsmouth Nazi Watch website shows BNP leader Nick Griffin holding a party meeting at The Alma Arms' function room last October. But Mr Smith said he had no idea that the controversial politician was going to be at his pub.
He said: "I wasn't aware he was going to be there. Someone came into the bar and told me he was in the building. When I used to take bookings for my function room I didn't used to know who were going to use it and what they wanted to use it for. It was all done over the phone. So I had no idea."
Mr Smith said he was a former member of the far right group the English Defence League but added that he quit shortly after last summer's protest in Portsmouth against Islamic extremism and Sharia law. "As soon as some unsavoury characters joined the EDL I decided that I was finished with it," he said.
Portsmouth News, 25 April 2012
The arm movements of members of far right groups are so easily misinterpreted, aren't they?