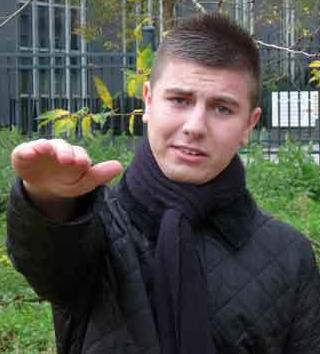 The leader of a racist BNP protest has been found guilty of disturbing public order outside a former councillor's house.
Kieren Trent pleaded not guilty to four counts of public disorder when he appeared at Milton Keynes Magistrates' Court for his part in causing former Councillor Mike Galloway "undue distress and alarm" as he and a group of others protested outside Mr Galloway's home in Wolverton. [See here and here.]
Mr Galloway, former cabinet member for planning at the council, was at his Wolverton home on Sunday, April 24 2011, when the gang arrived with racist banners and a megaphone.
The protest, led by Trent, was against the decision to give the go-ahead for a mosque to be sited at the former Plough pub in Bletchley. Two weeks prior to the protest, Milton Keynes Council had approved the plans.
The Citizen reported in April last year that six people were part of the protest outside Mr Galloway's house, though only two were arrested when police were called to the scene.
At the time, Trent was the leader of the BNP's youth section, known as "the Resistance".
The court heard Trent had approached Mr Galloway in Wolverton earlier in the day with a video camera to document the impromptu meeting before the protest.
Trent claimed in court he was no longer a member of the British National Party.
On Tuesday, District Judge Vickers found Trent guilty of breaching public order, and he will be sentenced on Wednesday, August 1.