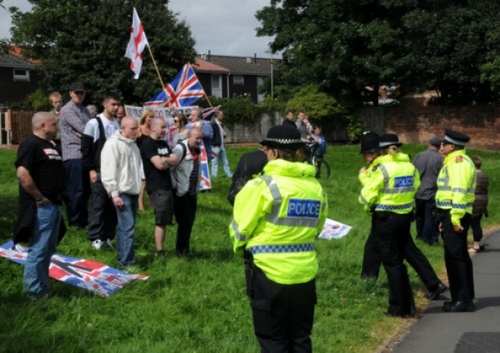 Members of the National Front are planning to protest once a month at the site of a proposed new city centre mosque, Sky Tyne and Wear has learned.
The right wing group demonstrated against the building of a mosque in St Mark's Road in Sunderland on Saturday, August 11. Police were forced to separate the protesters and anti-fascist groups as tensions heightened in front of worried residents.
Following the protest, the North East National Front (NENF) Facebook page announced the group will protest every month. The posting, which has been forwarded to Northumbria Police and Sunderland City Council, claimed that the NF "won the day".
Local NF activists were joined by others from across the country as they claim the mosque posed a threat to the community and the safety of local children.
Gary Duncan, 42, of Sunderland, speaking on behalf of the anti-fascists, said: "It doesn't matter what they say is the reason they are against the mosque, it is all about racism and that is it. They are not complaining about the church down the road. We have come to stand in opposition to these people who have been bussed in from all over the country to poison Sunderland with their racism."
Simon Biggs, the group's North East regional organiser of the NF, said: "There are no British-born Muslims in my eyes. They don't belong here and Islam is alien to us."