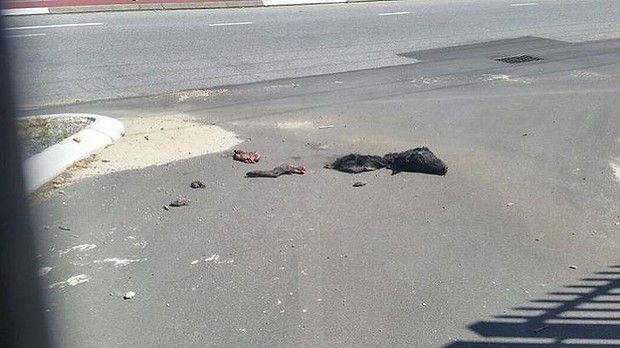 A mutilated pig has been found strewn outside the main entrance of a Perth mosque today.
Imam Shabir Moosa told news.com.au that a pig's head, some of its limbs and guts were discovered about 8am by one of the students leaving the Masjid Ibrahim mosque and a local community member.
Islamic law forbides the consumption of pork and Imam Moosa said the incident could have been motivated by an "objection" to their beliefs. "It's an awful thing to see, and while we do not consume pigs, animal brutality universally is not acceptable, so it's disheartening from that angle as well," he said.
It comes less than a week after a pig's head was thrown at a mosque in Newcastle. The week before, on November 13, a Muslim man was punched in the face and racially taunted outside the mosque as he left prayer.
Imam Shabir said that while he could not be sure of the intent of the person who left the remains at Masjid Ibrahim, it was likely to be an expression of "venting, frustration or anger, an expression of an objection of something."
The mosque in the southeastern Perth suburb of Southern River was opened in June by WA Minister for Citizenship and Multicultural interests Mike Nahan.
When asked whether security would be increased following this incident, Imam Shabir said: "Issues like this, in our opinion, don't require anything further to be done". What was needed, he said, was to continue to build bridges with other areas of the Australian community. "It doesn't dampen our spirits in any way, if anything it inspires us to do more in this regard," he said.
Just last month the mosque had held an open day where members of the non-Muslim community were welcome to attend and learn more about what they did. "In our opinion it was highly successful … a few weeks later, for something like this to happen, it's unfortunate."
He said that members of the Muslim community were experiencing discrimination at an individual level across Australia, which he thought was unacceptable. "People live in an open, free, democratic society, we all should live life as we chose. This is something that goes against the Australian spirit."
See also "Pig's remains dumped at mosque in Perth suburb of Southern River", ABC News, 24 November 2014
And "Bloody pig's head found outside Perth mosque", The Age, 24 November 2014