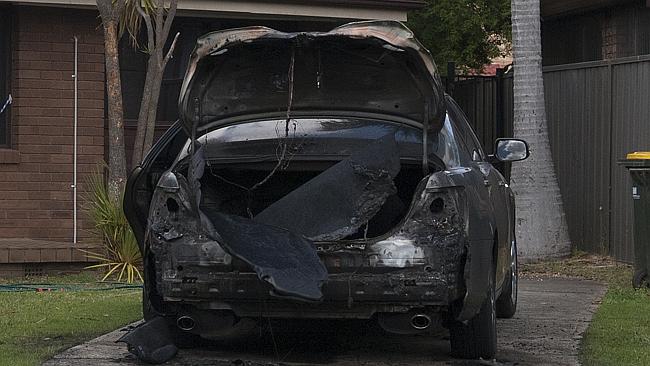 The owner of a pizza shop in Sydney's southwest has had his car and restaurant set alight, while anti-Muslim graffiti was sprayed across the eatery's walls.
Police are investigating a possible link between the incidents at the owner's home and Mimi's Pizza in Hammondville. Only a malfunctioning wick stopped the shop from being destroyed.
Neighbours report that the graffiti included slogans such as "F***en Muslims" and "You dogs go home".
Police say arsonists set fire to the car, parked outside the pizza shop owner's home, at about 2.30am this morning and they believe the same people may have attempted to set fire to the shop sometime before 6am.
"It would appear a wick was used but halfway through it went out and the shop did not catch on fire," Inspector Bob Tunks said. Insp Tunks said the bottom of the door was singed but no further damage was sustained.
Two back walls of the premises displayed obscene graffiti targeting Muslims.
The incident is the latest in a series of attacks targeting Muslims, including five threatening letters sent to Muslim businesses in Lakemba earlier this week.
Keitha Kennedy, owner of the The Catch Up Cafe near Mimi's Pizza, said this is the first incident of its kind she had known in the area. "I was stunned," she said. "I've lived for 34 years in Hammondville and I've never known anything like this."
Ms Kennedy added that she had seen slogans such as "You dogs go home" painted on the walls and said the restaurant owner was in shock this morning.
"He was very emotional and upset and he said that his car had been burnt out outside his house last night. Then he went to check his shop this morning, when the sun had come out, and he saw the hoses through the door and the accelerant — it was like a big wick," Ms Kennedy said.
She described him as "a lovely man", adding that he previously owned a shop in Lakemba, but moved to Hammondville because "because it was getting too rough."
"He brought his kids down here and put them in the school and now this has happened," she said. "He just said he really wants to pack up and move again. He can't stand it."
Daily Telegraph, 3 October 2014