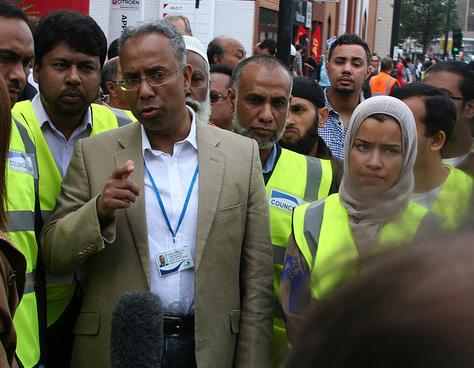 Hundreds of Muslim youths could be trained to steward volatile events following the good work of a peace-keeping team deployed on Saturday.
About 300 volunteers – most of them aged 18 to 25 – patrolled the streets around Whitechapel dispersing large groups of youths to prevent trouble breaking out over the English Defence League demonstration at Aldgate. Volunteers and youth workers played a "vital role" in keeping young people calm, police said. A Met spokeswoman added: "The stewards who worked on Saturday were well trained and effective."
Wearing high visibility jackets, the stewards were joined by an extra 500 informal volunteers, meaning their numbers were not far from rivalling the 1,000 or so far right activists being held on the borders of Tower Hamlets by police. While there were scuffles and arrests in the EDL camp, little trouble was reported in the areas around Aldgate East where a 1,500-strong crowd had gathered for a counter protest.
The London Muslim Centre and Islamic Forum of Europe, which jointly trained the volunteers, now wants to build up a bigger taskforce. Dilowar Khan, LMC's executive director, said: "We need to continue to strengthen our unity because the EDL issue is not going to go away. We need more trained stewards – the more we have the better."
Stewards even stepped in and helped a female EDL member who fell out of the rogue coach that made its way through Whitechapel. The woman was assaulted by a passerby after scuffles broke out close to the East London Mosque. Azad Ali, IFE's head of community engagement, said: "The volunteers escorted her back to where her coach was. They clearly have ideological differences but these Muslims were willing to protect EDL members from harm."
Mayor of Tower Hamlets Lutfur Rahman [pictured, speaking to media] said: "If they weren't there working with police things could have erupted."
East London Advertiser, 7 September 2011
See also "Stewards stopped mass brawl after EDL coach run-in, mayor says", East London Advertiser, 5 September 2011