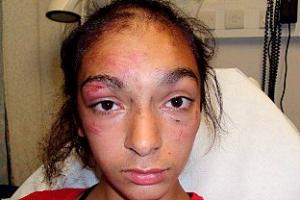 These are the shocking injuries inflicted upon schoolgirl Sureyya Ozkaya during a brutal daylight assault near her Thornton Heath home.
The 14-year-old's hair was set on fire and her hands and feet were cut with glass during the attack in Grangewood Park, before her attackers smashed her head against a tree and left her bleeding in a bush.
She was stumbled upon by a woman walking her dog and carried home to nearby Kitchener Road following the attack, at about 7.30pm on June 9.
Sureyya's mother Pemdegul Kale, 39, said three girls taunted her daughter about her Muslim faith as they carried out the assault, before burning her hair with a lighter and stealing her trainers.