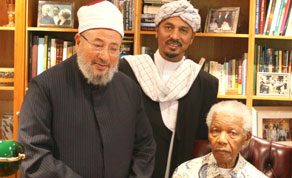 A leading international Muslim organization has paid tribute to late South African leader Nelson Mandela, sending Muslim scholars' condolences to South Africa government and people, as well as supporters of freedom and dignity in Africa and worldwide.
"The International Union for Muslim Scholars (IUMS), chairman, secretary general and members, send their condolences to South Africa government and people in the departure of Nelson Mandela, an icon for struggle towards freedom, justice and human dignity," IUMS said in a statement obtained by OnIslam.net on Saturday, December 7.
"The Union pays similar tributes to supporters of freedom and fighters against injustice and discriminations in all its types across Africa and the World."
Bidding farewell to the icon leader, the Muslim scholars asserted his support for world freedoms, with the Palestinian cause in its heart.
"The Union takes this opportunity to call on world peoples and freedom fighters to support justified Islamic and humanitarian causes, the first of which is the Palestinian cause and the Arab revolutions as well as all humanitarian causes. It also calls on them to make double efforts to release the unjustly detained captives and to defend the peoples' free choices and gains."