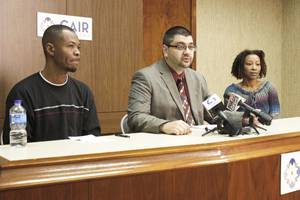 A Muslim man is seeking answers from federal law enforcement agencies about what he describes as their harassment of him and his family since his return to Oklahoma from the Middle East.
Saadiq Long, a U.S. Air Force veteran and McAlester native, said Thursday he and his sister have been followed by the FBI and have had several unexpected and unwanted encounters with agents of the federal agency since he arrived in Oklahoma from Qatar on Nov. 19.
Adam Soltani, executive director of the Oklahoma chapter of the Council on American-Islamic Relations, said the Muslim civil rights group sent a letter Thursday to the federal Justice Department asking the government agency to investigate the recent treatment of Long and his family.
The letter, written by Gadeir Abbas, an attorney for the civil rights group, requested that the justice department "investigate and hold accountable those responsible for the dangerous and illegal cowboy antics" of the FBI's field office in Oklahoma City.
Soltani, Long and Long's sister Ava Anderson, of Oklahoma City, spoke at a news conference held by CAIR's Oklahoma chapter Thursday at its office at 1112 NW 23.