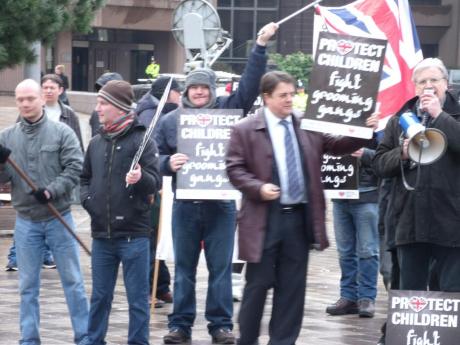 Far right groups are exploiting the conviction of nine men who were part of a gang which groomed girls for sex to create a "climate of hate" against Muslims, community leaders have warned.
Muslim groups say they have seen an upsurge in hate mail and abusive phone calls since the trial ended this week and community leaders are bracing themselves for more Islamophobic attacks on individual Muslims and mosques across the UK.
"We are already receiving hate mail and hate phone calls even though we issued a very strong statement condemning those involved," said a spokesman for the Muslim Council of Britain. "If it can happen to MCB, you can just imagine what ordinary Muslims are facing as they go about their day-to-day business."
Eight of the nine men convicted at Liverpool crown court for their involvement in a gang in Rochdale, Lancashire, that sexually exploited girls were of Pakistani heritage, and Muslim groups say far right organisations such as the British National party (BNP) and the English Defence League (EDL) have used the trial to demonise and abuse the entire community.
Security outside Liverpool crown court, where the nine men were tried, was stepped up after hundreds of EDL and BNP protesters picketed the building. The trial was almost derailed whenBNP leader Nick Griffin tweeted that seven verdicts had been reached. One of the defendants has now launched an appeal claiming Griffin's tweet showed jury confidentiality was breached. The beginning of the trial was also delayed for a fortnight in February when two Asian defence barristers were attacked outside the courtroom.
The latest surge in Islamophobic abuse comes amid concern that the failure of the BNP in recent elections will see some smaller groups turning to more violent street action. There have been a growing number of attacks on anti-racists and trade unionists as well as rising hostility to Muslims.
The MCB spokesman said Muslims were used to "low-level hatred". "People expect that nowadays, from their fellow travellers on the underground or buses," he said. "That sort of thing happens all the time."
But he said communities were preparing themselves for more serious attacks following the publicity surrounding the grooming trial. "The graffiti on the door of a home, mosques and community centres attacked, a pigs head through the door … it is bound to increase because the racists are waiting for opportunities like this."