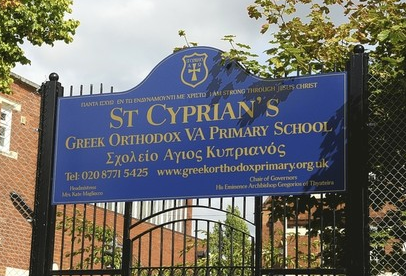 A Greek Orthodox school is being taken to the High Court for banning a Muslim pupil from wearing a headscarf.
The nine-year-old girl's parents were so incensed at the decision they have pulled her out of St Cyprian's Greek Orthodox Primary Academy, in Thornton Heath. Now they have applied to the High Court in an attempt to force the school – the only one of its kind in the country – to reverse its ban on their daughter wearing a hijab.
The girl's parents pulled their daughter out of St Cyprian's, which this week came top of Croydon's primary school league table, in September. She is now dual-rolled at All Saints CofE Primary School, in Upper Norwood. Her parents want her to return to St Cyprian's as her brother still attends the school.
The family have submitted a fresh application to have the issue heard at the High Court after their first attempt was rejected. The matter is due to be considered in February.
The school claims to "respect the religious beliefs and practice of all staff, pupils and parents". Its mission statement says the school is "committed to combating racism" and promoting "good relations between people of different ethnic origins". It adds: "We recognise and celebrate the fact that a significant percentage of our children are from ethnic minority groups".
There is no mention of a ban on headscarves in the uniform policy on the school's website. Girls are required to wear a dark blue coat, an optional blazer, a skirt, a white blouse, a navy blue pullover and navy blue or white socks and black shoes.
Shuiab Yusaf, trustee of Croydon Mosque & Islamic Centre, urged the school to reconsider the ban. He said: "We encourage schools to be a little less strict and allow Muslim girls to wear headscarves if that is what they want to do," he said.