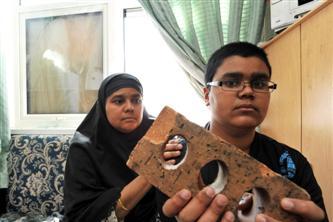 A Muslim family have been targeted by yobs again – even as they prepared to flee from their council house. Salim and Sabana Amod decided to move out earlier this year after they were persecuted by thugs in Saffron Lane, Leicester.
After the Mercury reported their story in April, the abuse initially died down. However, during the past two weeks it has flared up again, culminating in bricks being thrown through their window on Thursday night.
The family were today moving into their new house in Highfields, Leicester. Mrs Amod, 40, said: "It did go quiet after our story was in the paper. We thought people had realised how hurtful it was to call us names and to vandalise our home. But then the problems started again in the past few weeks. We are going to a new home, why can't these people even let us move out in peace?  It is sad to leave Saffron Lane, but all the things that happened to us were my worst nightmare. We just want to live in peace."
The couple and their children have repeatedly been persecuted by thugs who have slashed their car tyres, sprayed offensive graffiti on their home in Helmsley Road, where they lived for just over two years, and thrown stones at them. The couple, who are from India, were also racially abused. Some of the foul language was directed at their Muslim faith. Last weekend, yobs again covered the family's car in paint and smashed three of the vehicle's windows.
Earlier this year, a youth was arrested and admitted spraying offensive graffiti on the family's home and car. He was later ordered to carry out community service.
In recent weeks, officers from Welford Road police station have arrested four people. Two 16-year-old boys are being investigated in connection with incidents of vandalism, while a 21-year-old man is to face trial later this year for allegedly breaching a court order which barred him from the neighbourhood. A 54-year-old woman has been charged with using threatening words or behaviour to the family.
Leicester Mercury, 4 June 2011
Via ENGAGE