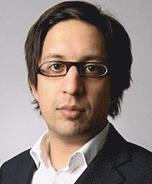 A Muslim councillor who asked for Christian prayers to be separated from full council meetings is to lose his seat. Imran Khan, who has not been reselected by the Tories to contest any seats at the upcoming Reigate and Banstead Borough Council elections, said he thinks the prayer row has had "a big influence".
Councillor Khan, 36, has held one of the three Horley West seats on Reigate and Banstead Borough Council for four years. But he has not been selected to stand when one third of the council's seats are contested on May 3, and he received little support in Earlswood and Whitebushes when he previously stood in the ward as the Conservative candidate.
He said: "Many of the councillors had mistakenly thought I was objecting to the notion of prayers before council which wasn't true – I was simply recommending a break between the two. However, once people get themselves worked up about something and feel upset about something they are not too open to any debate about it. I think they were all feeling pretty upset about the position I had taken."
Cllr Khan, who will remain a councillor until the election, said he felt it was wrong that he was forced to stand outside the council chamber while prayers were being said. His comments followed a High Court ruling that prayers as part of formal meetings were unlawful.