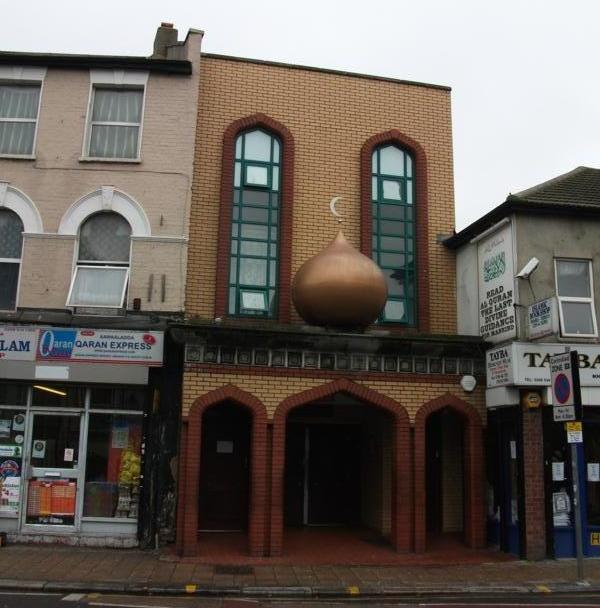 An east London mosque is being investigated by the Charity Commission over potential links to terrorist and extremist groups.
In a letter seen by BBC London, the commission says it is beginning a statutory inquiry into the Masjid-al-Tawhid mosque in Leyton. It comes as liberal Imam Dr Usama Hasan resigned from the mosque following death threats for teaching about evolution and women's rights.
In the letter, the Charity Commission states the investigation will look at whether the Masjid-al-Tawhid Trust "allowed individuals with potential links to terrorist organisations to use the charity to promote and/or express extremist views; and/or the trustees have taken appropriate steps to safeguard the reputation of the charity."
BBC London has previously reported on the abuse received by Dr Hasan, who served as an Imam there for more than 25 years. Some fundamental Muslims have been calling for his resignation for years because of his teachings about Islam being compatible with evolution and a woman's right not to wear a hijab.
Dr Hasan said after bringing in an arbiter to settle the dispute, he reached an agreement with the mosque that he would resign on the condition two other trustees also did. Part of the agreement means he cannot speak to the media in a negative context about the mosque.
"There is a danger of Muslim extremism in general, so yes there is a danger of it at the mosque," he said. "Unfortunately they are serious allegations because some individuals with extremist and terrorist views slipped into the mosque over the years and preached there."
He alleges that in 1998, supporters of radical cleric Abu Qatada organised for him to visit and hold a study session at the mosque. He also claims that in 2003 radical Islamist cleric Anwar al-Awlaki, a key al-Qaeda leader who was killed in Yemen last year, spoke several times at Masjid-al-Tawhid.
This report featured prominently on the BBC London News television programme this evening.
As you can see, the only allegations against Masjid-al-Tawhid on which the BBC bases their scaremongering headline about "terror links" are that some supporters of Abu Qatada organised a study circle back in 1998 (elsewhere Usama Hasan has stated that this was "unauthorized" and was immediately closed down) and that Anwar al-Awlaki spoke at the mosque in 2003 – which was years before Awlaki became an al-Qaeda leader, as the BBC must know perfectly well. At that time, he was widely regarded as a leading opponent of al-Qaeda.
Now, which organisation do you suppose might have fed this nonsense to the Charity Commission, before leaking the letter to the BBC and persuading them to feature this non-story under such a provocative and misleading headline? Is the name that perhaps comes to mind that of Quilliam?
No prizes either for guessing who has seized on this irresponsible reporting in order to claim that their own view of mosques as organising centres for terrorism has been vindicated.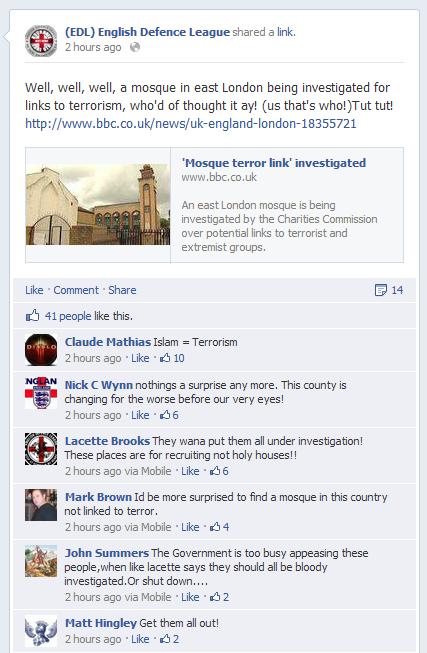 It is difficult to see the BBC's report as anything other than an open invitation to these violent bigots to target Masjid-al-Tawhid. In fact the EDL London Region has helpfully provided its supporters with directions to the mosque.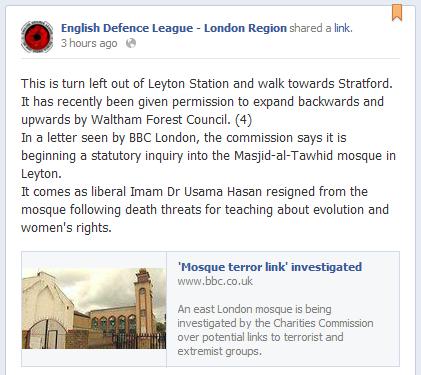 This is against the background of a planned EDL protest in Waltham Forest in August. While the local labour movement has been warning that the demonstration will inflame tensions in the borough, Quilliam and the BBC are evidently intent on providing assistance to the EDL in inflaming them.