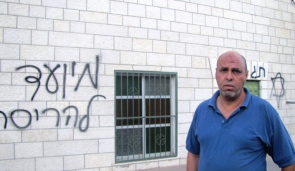 A mosque in the Bedouin village of Ibtin, east of Haifa, was vandalized overnight Tuesday with graffiti. The graffiti was discovered by village residents at 4:30 AM.
The 3 slogans spray-painted on the building's walls read: "There will be a war over Judea and Samaria," "price tag" and "this structure is destined for demolition."
"This is a serious crime that cannot be ignored," Mohammed Omaria, a village resident who works at the mosque, told Haaretz. Omria also said the crime was the result of the recent wave of anti-Arab incitement in Israel.
A village resident who lives near the mosque said he saw three yarmulke-wearing youths in the mosque's vicinity at around 2 AM Wednesday, and that when he asked them what they were doing there, they answered that they were searching for their dog.
Dozens of village residents and Muslims from nearby villages flocked to the mosque to inspect the damage.
The village's leaders said they plan to involve Israeli Arab MKs in the affair and hold a conference at the mosque.
The mosque has come under attack in the past when arsonists set fire to it in 1988.
Update:  See "Four arrested in Bedouin mosque vandalism", JTA, 10 June 2010