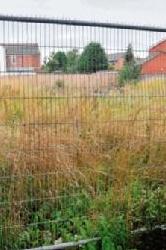 A mosque proposal rejected over traffic concerns could still be built in Lincoln following the submission of an appeal.
The Islamic Association of Lincoln says it has spent the last six months searching for a new site after the City of Lincoln Council refused it permission to build a new mosque and community centre in Church Drive, off Boultham Park Road, following concerns about parking and traffic.
Dr Tanweer Ahmed said the group has decided to appeal the decision to the Planning Inspectorate after it could find no alternatives within the city.
Dr Ahmed said: "We will continue to try our best to find a solution and we think it is best to submit an appeal. I think car parking is an issue not just in Lincolnshire but across the country, but that doesn't mean you should stop any development. The important thing is to manage it and we tried to have proposals to manage the parking so not to cause any inconvenience to residents."
Lincolnshire Echo, 20 April 2010
---
And note the comments that follow the report. Some examples (spelling and grammar as in original):
"Just sold a property around the area totally over joyed as not looking forward to the influx of people in burkas and men in dress s decending in the area in there hundreds…. All i could see in vision is wailing towers of holyness chants and people with pray matts… NO THANKS outa of here quick"
"Well you could not have better timing for a big turnout BNP . Anyone that has seen a mosque on a friday afternoon will soon see what it does to the district !!"
"Well there goes our city!!! I'll definitely be voting BNP in the election."
"Well you had better be prepared for the E.D.L to form a protest, these mosque's are not welcome …"
"I Didnt come to Lincoln to experience cultral diversity thanks! BNP for me too!"
"That reminds me to make sure I get my BNP vote in …."