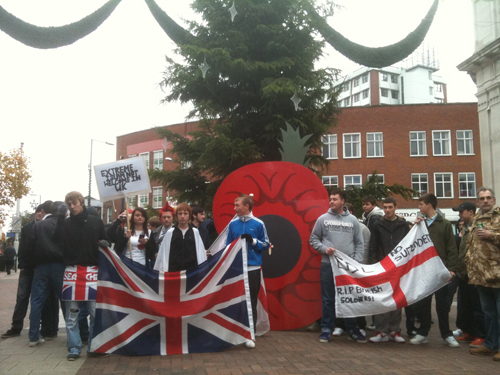 The protest in Kingston that preceded the attack on the mosque
A member of a hooded mob that attacked Kingston mosque hung from the front of the building and tried to pull parts of it off as the violence raged, a court has heard.
Nine men accused of the attack on November 21, 2010, are currently on trial at Kingston Crown Court to deny the charges against them. The attack came hours after a peaceful English Defence League (EDL) rally.
During the violence, 20 to 30 men with their faces covered waved pieces of wood, urinated beneath the minaret and laid bacon on a car, the court heard. The jury have been shown photos of the aftermath which include parts of the sign above the mosque entrance which had been ripped down.
Yesterday witness Mohammed Makda told the court he saw one of the men wearing a yellow beanie hat urinating on the mosque. Another was standing in front of the Iman's entrance to the mosque waving a stick.
He said: "He had gone under the minaret and decided that he should do this as an extra insult. It looked like all the men were waiting for a cue. Maybe somebody makes a start like a kick-off. Everything is just happening in front of you and you are thinking any time they could come and chase you."
Mr Makda said he expected something "dramatic or violent to happen." He said: "They were shouting E, E, EDL, very arrogantly. It doesn't sound nice at all. By that time I saw they were running off."
Fiona Reynolds was driving down East Road when she saw a crowd in front of the mosque and on the other side of the road who she thought were worshippers.
She said: "I realised very quickly they were things being hurled and I could hear the noise, people shouting and egging each other on." Mrs Reynolds said there was a bit of wood being thrown and a container of liquid being poured.
She said: "There was someone hanging on the front of the mosque trying to pull something off. I don't know whether it was a sign or lighting. None of them were just standing by. They were all involved in what was going on."
Police arrested some of the men in nearby roads. Others were arrested at their homes.
None of the witnesses who have appeared in court have so far been able to identify any of the nine defendants on trial.
Martin Pottle, 23, David Morris, 21, Alfie Wallace, 19, Terry Earl, 32, Adam Khalfan, 19, Paul Abley, 24, Karl Matthews, 21, Jordan Ellingham, 21, and James Stacey, 19, all deny violent disorder, affray and racially aggravated damage.
Kingston Guardian, 8 March 2012
The demonstration that preceded the attack on Kingston mosque was in fact organised by an individual named Ben Baty who claimed not to be a member of the English Defence League. However, as the photo above shows, and the chants of the mosque attackers confirm, there was a substantial EDL component to the protest.
One of the accused, Jordan Ellingham, was an enthusiastic supporter of the EDL's proposal to stage an intimidatory march through Tower Hamlets last year, suggesting in a comment on the EDL's Facebook page that the march would provide an opportunity for "ripping veils off".
In a comment on his own Facebook page responding to the recent Channel 4 documentary Proud and Prejudiced, Ellingham wrote: "makes my blood boil watching them muzzy's.. tommy is a true fighter".
Along with Joel Titus, the EDL youth leader, Martin Pottle and Paul Abley were among the football hooligans jailed following a violent confrontation between Brentford and Leyton Orient fans outside Liverpool Street station in 2010.
Titus, Pottle and Abley are all listed as Ellingham's friends on Facebook. Ellingham appears to be particularly matey with Titus.
Update:  The European Freedom Initiative attempts to deny EDL involvement in the mosque violence, reproducing the Kingston Guardian report under the heading "Muslims try to blame EDL after unknown men attack mosque". Unknown? Hardly.