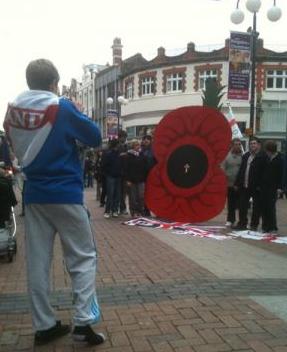 Masked men threw bottles of beer and urinated on a mosque following a march against Muslim extremism.
Bacon was also left on cars near Kingston Mosque during the attack by a group of 10-15 youths on Sunday.
Kingston Mosque claimed baseball bats were also used in the incident on East Road, but this was not confirmed by police. However officers did recover two pieces of wood near the scene.
Rizwan Khaliq, spokesman for the Kingston Muslim Association, said: "Under the pretence of protesting against extreme elements within the Islamic faith, a group of masked men congregated outside the mosque shouting obscenities at the mainly elderly congregation inside.
"They urinated against the mosque walls, threw beer-bottles, and used baseball bats to smash windows. It is a miracle that nobody was injured and only superficial damaged was caused.
"Such despicable actions have no place in our community and it is something that we must all unite against. All decent folk must come together and unite against the hate agenda – which has no place in our community."
Earlier on in the day about 60 people holding Union Jacks and a large wooden poppy had chanted "Muslim bombers off our streets" as they marched through Kingston.
Surrey Comet, 22 November 2010
Update:  See "Police issue appeal after attack on Kingston mosque", Surrey Comet, 24 November 2010