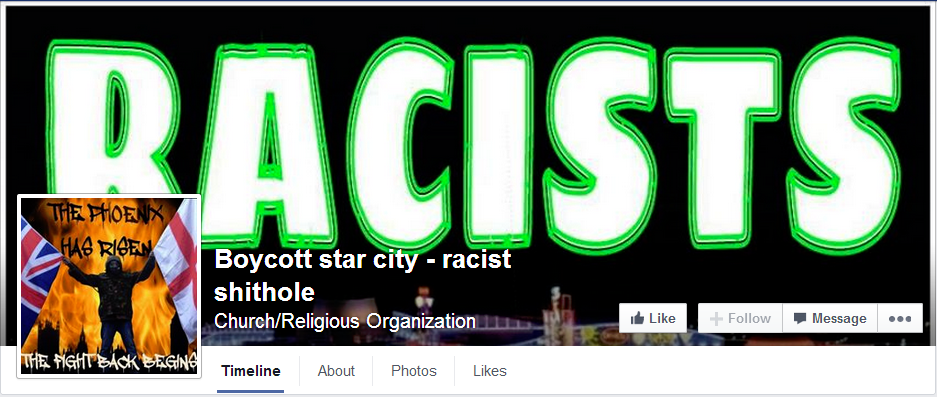 Last week the arrival of Eid provided the pretext for yet another round of anti-Muslim scaremongering. According to a rumour that quickly spread across the internet, the Vue cinema in Birmingham's Star City entertainment complex was only allowing Muslims who were celebrating Eid to enter the venue and had turned away non-Muslims.
This transparently ludicrous story would appear to have been kicked off by a comment posted on the Birmingham Mail Facebook page by one Emma Noakes, who accused Birmingham City Council of colluding with Vue in implementing a discriminatory admission policy:

You'll note that Ms Noakes' accusation wasn't based on her own experience of being turned away from the cinema but on a second-hand and probably garbled account by a friend. As for her suggestion that the local authority was co-operating with Star City in banning non-Muslims from the venue, this was clearly nonsense.
Nevertheless, it was enough to provoke a predictable spate of outraged comments denouncing the supposed ban as further proof of an Islamic takeover of Britain and the subjugation of the indigenous people. A Facebook page was set up to rally opposition to the discrimination against non-Muslims, under the title "Boycott star city – racist shithole". The accusation of racism was particularly ironic, given that the page is clearly a far-right initiative, as the photos below demonstrate.
Unsurprisingly, Birmingham City Council denied any involvement, telling those who inquired about the issue: "This has nothing to do with the council and is simply not true." The Birmingham Mail, a newspaper not averse to engaging in a bit of anti-Muslim scaremongering itself, also dismissed the rumour as baseless, stating: "We have fully investigated these allegations and can find no foundation for them."
Star City management too was adamant that there was no discriminatory policy against non-Muslims on their part, and issued the following statement:
"Star City is a family entertainment centre open to and enjoyed by all. Star City has enjoyed growing success in recent months and we have a proud record of community involvement. Over the past few days Star City has been extremely busy and the volume of traffic has been very high, causing significant traffic congestion and delays in getting some visitors access into the Centre. During the busiest times some visitors have been turned away and there has been some disappointment for some, for which we apologise. However, there is simply no truth in the recent allegations – the nature of which have no place at Star City."
Although the statement doesn't mention Eid, this was obviously a major contributory factor to Star City being very busy last week. It is hardly surprising that the festival should result in large numbers of Muslim families visiting the entertainment complex – according to the 2011 census, 21.8% of the population of Birmingham is Muslim, while Star City itself is situated in the Nechells area of the city, where 43.5% of the population is Muslim. Presumably what happened at the Vue cinema was that tickets sold out and disappointed visitors were told they were unable to get a seat because of Eid, which they took to mean that only Muslims were allowed in.
This silly rumour would probably have fizzled out, had it not been taken up and given legitimacy by the Daily Mirror, who reported it under the headline "Vue apologises after families 'barred from cinema for not being MUSLIM'". (The Mirror's story was then picked up by the Daily Mail, who went for the headline "Vue cinema apologises after friends 'are turned away by security guard because they were not a Muslim family celebrating Eid'", while the Daily Star also ran a piece on it, entitled "Lads turned away from busy cinema 'because they weren't Muslim'".)
The Mirror used Emma Noakes' Facebook post as evidence of discrimination at the Vue cinema and even referred to the "Boycott star city – racist shithole" as an example of public concern about the situation – without mentioning the name of the page or bothering to inform readers that it is run by anti-Muslim bigots. But the Mirror's star witness was an individual named Leon Jennings, who told the paper that a "burly security guard" at the Vue cinema informed him and his friends that they "couldn't go in because it was only couples and families celebrating Eid". Jennings accused the guard of "making assumptions about my religion and banning me based on my skin colour" and said the cinema's action amounted to "blatant racism".
Now, it may be that Jennings failed to understand the reason he was given as to why he couldn't attend the screening at the cinema, or perhaps the guard failed to explain the situation coherently. Or it could be that Jennings is an attention-seeking self-publicist who contacted the Mirror with a cock-and-bull story with a view to getting his name in the papers. Then again, perhaps Jennings is someone who just has a problem with Muslims. Anything is more likely than the possibility that the cinema actually operated a ban on non-Muslims.
If Jennings genuinely does believe he was barred because he wasn't a Muslim, then he should go to the police and report it. Discrimination on religious grounds in the provision of goods and services is a criminal offence under Part 2 of the Equality Act 2006. The problem, of course, is that the police would subject Jennings' claims to considerably more scrutiny that the Mirror did, and if he were found to be making false accusations he could be charged with wasting police time.
The Mirror's article was posted on the "Boycott star city – racist shithole" Facebook page as proof that their paranoid accusations were true ("To all the people claiming this is false please read…..") and was also taken up by the English Defence League and Britain First (see screenshots below). As Steve Rose points out, the Mirror's irresponsible reporting resulted in an outburst of online far-right hatred including threats of violence ("Let's just blow it up? See how they like it"). The Mirror should be ashamed of itself.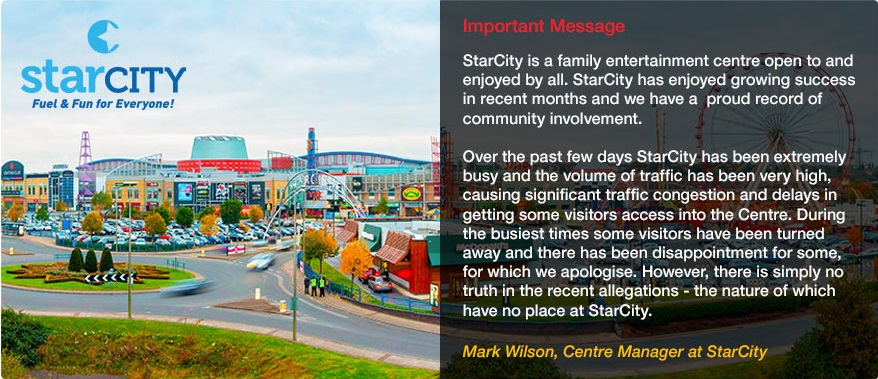 Statement on the Star City website denying discrimination against non-Muslim customers


Far-right Facebook links to the Mirror report (right click on image to open in new tab)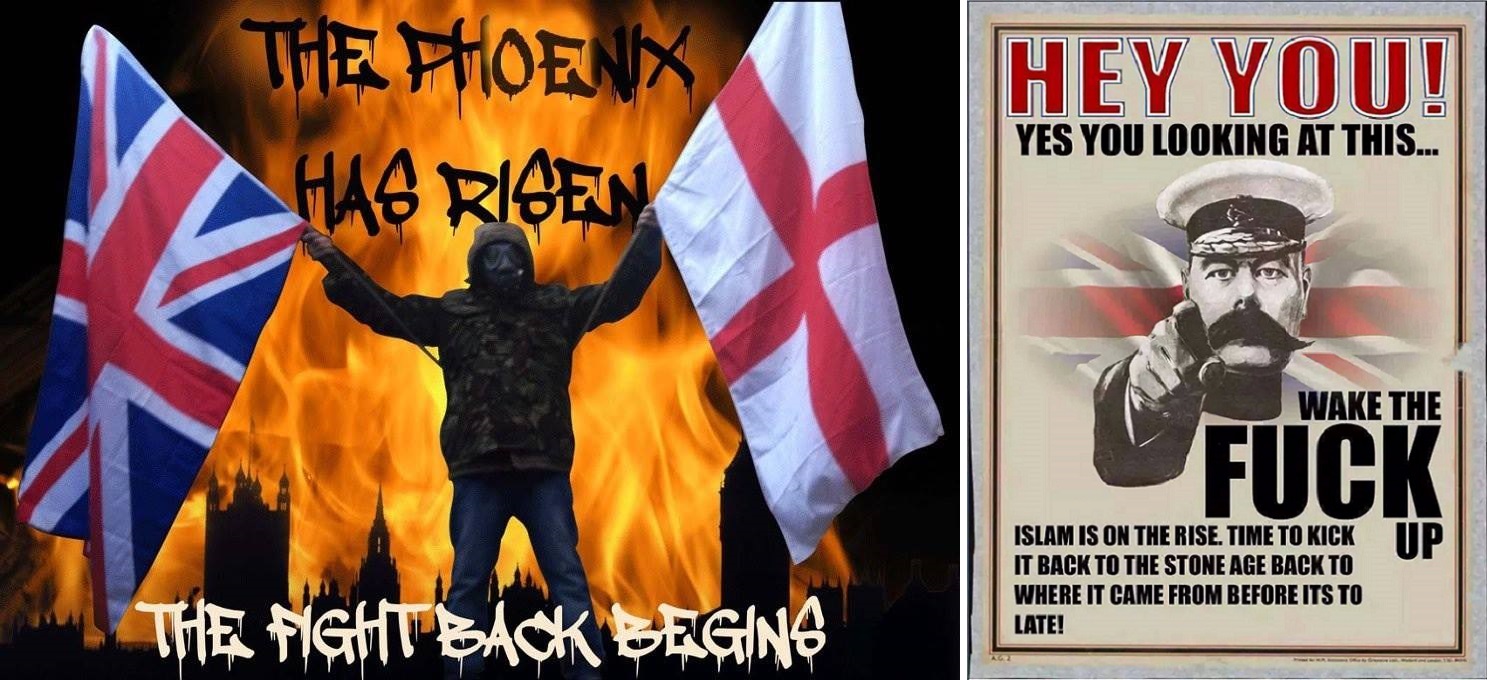 Photos from the 'Boycott star city – racist shithole' Facebook page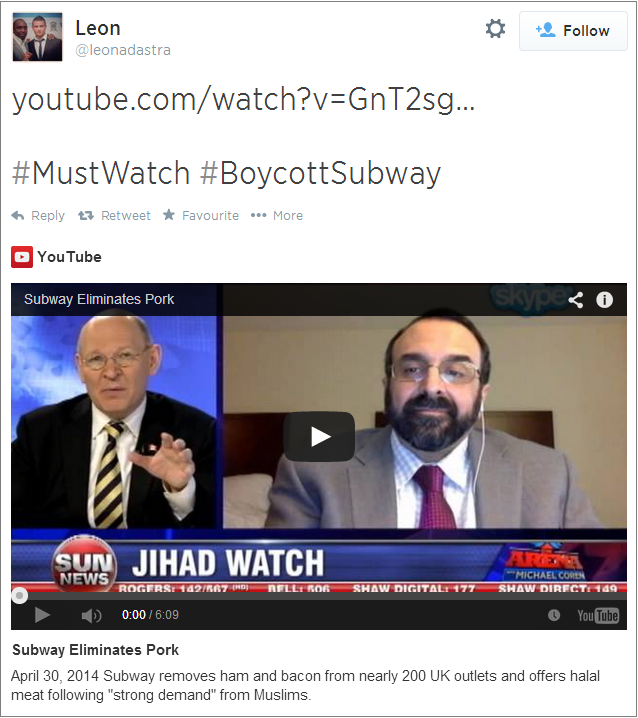 Leon Jennings tweets his support for the 'Boycott Subway' anti-halal campaign (thanks to Steve Rose for link)