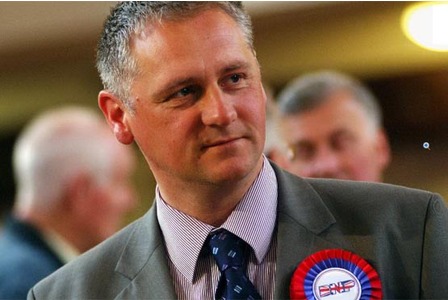 Well, that's the editorial view of Stoke-on-Trent's local paper, the Sentinel, on the recent conviction of the city's British National Party leader on a charge of racial harassment over articles he posted on his Stoke Patriot blog.
According to the Sentinel,  the racist abuse that fills Coleman's blog merely amounts to "purple prose" and his views are "at worst objectionable".
This is a man who couldn't even bring himself to condemn the attempt to blow up a Stoke mosque. Stating only that he could not "sanction" their actions, Coleman described the two men jailed for this crime as "patriotic Britons" and wrote: "I understand and share the anger that must have been in their hearts as they witnessed this Mosque been [sic] built in their city."
If the vile comments that Coleman directs at Muslims on his blog were aimed at the Jewish community he would certainly be charged with incitement to racial hatred. Unfortunately Muslims are not covered by that legislation and the law against incitement to religious hatred is completely useless. The lesson here is that the law needs to be amended so that people like Coleman can be charged with a more serious offence than just harassment.
Yet the Sentinel argues: "this week's jury decision that Coleman's regular internet rants warrant a criminal conviction for racially-aggravated harassment, is not a welcome development. Particularly when reflecting that most of the freedoms we all enjoy would not have been won without the important principle of freedom of speech."
It's the kind of loopy libertarian defence of the far right that you might expect to read at Spiked.