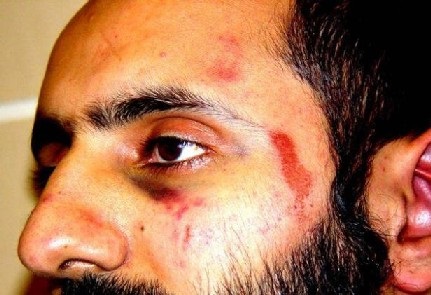 The Metropolitan police today agreed to pay £60,000 damages to a British Muslim after a high court admission that officers had subjected him to "serious, gratuitous and prolonged" attack.
The court was told that Babar Ahmad, who is accused of raising funds for terrorism, had been punched, kicked and throttled during his arrest by officers from the force's territorial support group in December 2003.
The Met had repeatedly denied the claims, saying officers had used reasonable force during the arrest. However, lawyers for the force's commissioner, Sir Paul Stephenson, today admitted at the high court that Ahmad had been the victim of gratuitous and sustained violence at his home in Tooting, south-west London.
"The commissioner has today admitted that his officers subjected Babar Ahmad to grave abuse tantamount to torture during his arrest," Ahmad's solicitor, Fiona Murphy, said outside the court.
See also, Victoria Brittain, "Stunning victory for Babar Ahmad", Guardian, 18 March 2009