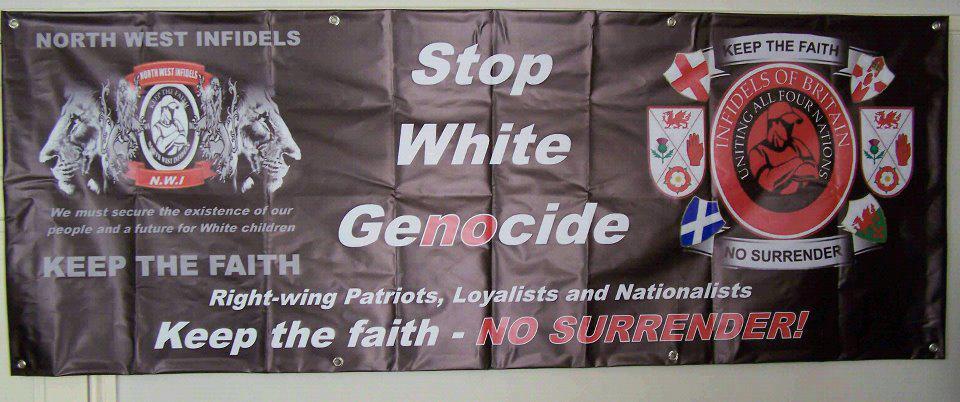 Six men have been charged with violent disorder after anti-fascist campaigners held a fundraising event in Liverpool city centre. The men, aged between 17 and 52, are all believed to belong to the North West Infidels, an extreme far-right group.
Among those charged is Shane Calvert, 31, from Blackburn – known as "the diddyman" in nationalist circles and thought to be the Infidels' second-in-command. The other men set to appear in court are: Peter Hawley, from Blackburn, Lancashire; Liam Pinkham from Wallasey, Merseyside; Nathan Smith of Huyton, Liverpool; Michael Kearns from Liverpool, and a 17-year-old boy also from Liverpool, who cannot be named for legal reasons.
All are charged with violent disorder and are due before Liverpool magistrates court on 7 February.
A statement from Greater Manchester police said: "The charges follow a pre-planned operation by the North West Counter Terrorism Unit on 2 October 2012. The arrests were part of an ongoing investigation into a disturbance in Liverpool city centre on Friday 6 July 2012. Three members of an anti-fascist group received minor injuries after being kicked and punched by a group of around 10 men from an extreme far right group who then ran away from the scene."
The Infidels originated in a 2011 split from the English Defence League, and have their main base of support in northern England. Although the EDL at one time denounced the Infidels as Nazis (which is indeed what they are), more recently bridges have been built between the two movements. The EDL welcomed the participation of a contingent from the Infidels at a recent anti-mosque protest in Shotton Colliery, hailing these unabashed fascists and white supremacists as "great patriots".