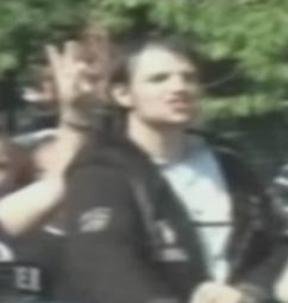 A racist attacker who punched a man in the face after an EDL march in Farnworth is being searched for by police.
The 19-year-old victim was sat in his car outside a fast food shop in Bradshawgate when he was racially abused. He got out of his car and was punched in the face, leaving him with a cut near his eye. Witnesses intervened and the attackers ran off.
Police are appealing for the public to help them identify a man believed to have been involved.
The incident happened on Monday, August 26, last year, after an EDL march in Farnworth. Police said at the time that the march had passed "without major incident".
Det Con Gary Knox said: "From what we know, we believe this man had attended an EDL march earlier that day before drinking at a pub in the town centre. Following the incident, we believe he has caught a train and got off in the Preston area. Thankfully, the victim did not receive a serious injury and was treated in hospital with a cut.
"I would ask people to take a good look at the image and if they recognise him, to contact police."
Anyone with information can call police 0161 8565619 or Crimestoppers, anonymously, on 0800 555111.