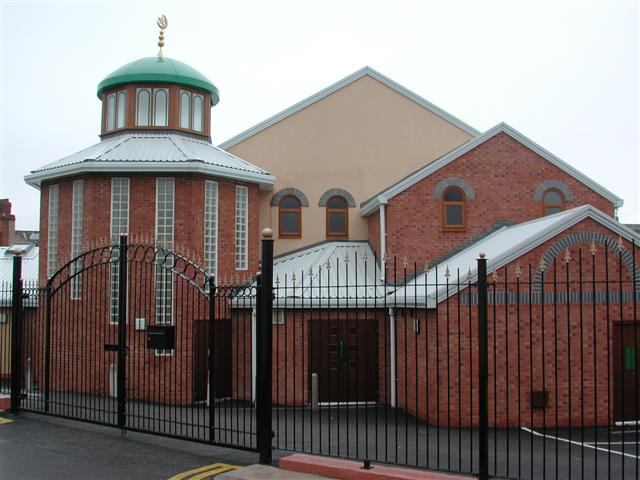 Two days after the killing of Lee Rigby, a pig's head was thrown into Blackpool Central Mosque
A man has been banned from going within 50 metres of any mosque after he threw a severed pig's head into a building during prayer time.
Thomas Ashton was among a group who bought a pig's head from a butcher's shop and then hurled it into the mosque on Revoe Road, Blackpool. The incident was then publicised by Ashton and others on Facebook, a court was told.
Ashton, 20, of Dudley Avenue, North Shore, pleaded guilty to racially aggravated threatening behaviour. Blackpool magistrates said their powers were not sufficient to deal with the case and bailed Ashton to appear at Preston Crown Court on December 15. He was told by the court he must not go within 50 metres of any mosque as a condition of his bail.
Elliott Taylforth, prosecuting, said a pig's head was thrown into the Blackpool mosque as prayers were coming to an end and people were leaving at around 3.20pm on May 24. After the incident, which was described as "despicable", details about it were published on Facebook eight minutes later. One of the messages read: "A pig's head has just been delivered to the mosque in Blackpool." Another said: "They will be fuming."
Mr Taylforth said: "It was a particularly nasty offence which could have escalated in the current climate into further trouble."
Ashton originally denied the offence but his conscience got the better of him and he returned to police and confessed his role in the incident, the court was told. He said it was a prank and that he was not a member of a group.
Stephen Duffy, defending, told magistrates that his client had no previous convictions. He said: "It was essentially an extremely stupid prank which went wrong. He did not realise how it would affect the people at the mosque and offend their religious sensibilities."