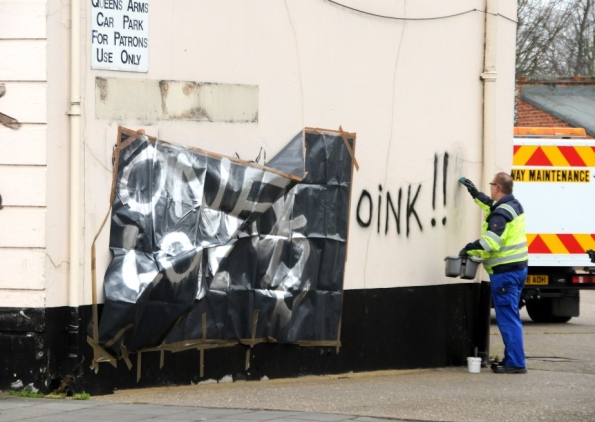 Anti-Muslim graffiti being removed from the wall of the Queen's Arms
Racially motivated graffiti has been daubed on a former Lynn pub which could become an Islamic community centre if plans are approved.
Police have arrested a 34-year-old Lynn man on suspicion of criminal damage to the Queen's Arms pub in London Road, during the early hours of yesterday. The word "oink" was one of the words sprayed onto the side of the building.
And the body who are hoping to take over the site have described the vandalism as "unfortunate."
As previously reported, the West Norfolk Islamic Association wants to use the building as a community and resource centre as well as a place of worship. A planning application for a change of use of the building has now been submitted to West Norfolk Council.
Association president Azam Gabbair has spoken about the planning application and vandalism.
He said: "What we seek here is a community and social centre to bring their families and meet people from the many different regions of the world. There remain no issues of tension, certainly within the Muslim population and between the wider communities as we see it.
"This is an unfortunate incident. I have spoken with the authorities involved as we continue to work together. All are showing us their full support. On a personal note, I feel encouraged at the level of support we have received, both from the authorities and other groups, especially in light of this incident."
There are an estimated 80 Muslim families living in West Norfolk and the group, which has been running for 20 years, currently meets at five halls in the area.
The planning application states the site would be used for Friday and Ramadan evening prayers as well as hosting administrative meetings, guest speakers and social events. Mr Gabbair said the building could also be used by other societies and organisations in the town.
The Queen's Arms closed last year and is being sold by Elgood's brewery.
Police have confirmed they are treating the incident as racially motivated and have appealed for witnesses. Chief Insp Ady Porter said: "We are stepping up patrols in the area and are liaising closely with the community." Anyone with information should call police on the non-emergency 101 number.