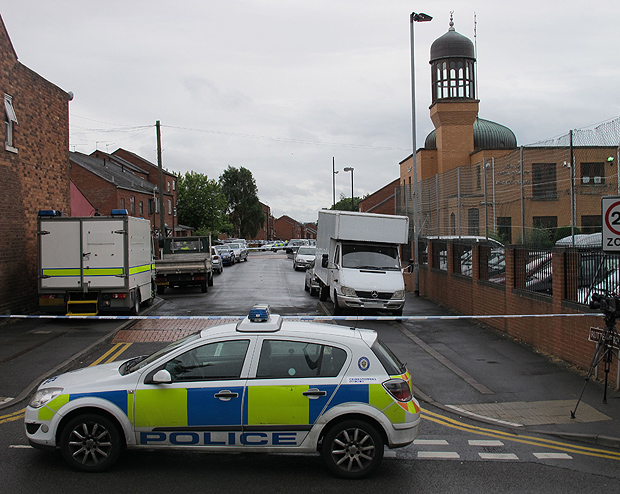 A 75-year-old man has been arrested on suspicion of causing an explosion likely to endanger life or damage property after a home-made bomb exploded near a mosque.
West Midlands police said the man was arrested at his home in Walsall on Thursday afternoon by detectives from the counter-terrorism unit. He has been taken to a police station in the West Midlands for questioning.
Officers are searching his home address as part of the investigation into the home-made explosive, the remains of which were found in an alleyway adjoining the Aisha Mosque and Islamic Centre in Rutter Street, in the Caldmore area of Walsall, last Saturday. The arrest comes as part of a major investigation by specialist detectives and experts from the West Midlands counter-terrorism unit.
Around 150 people were evacuated from their homes in the Caldmore area last Saturday night while bomb disposal experts made the remains of the device safe. West Midlands police said a loud bang heard by residents late on Friday "appeared to be consistent" with the device exploding, but no one was injured and it caused minimal damage.
Officers were contacted on Saturday when the remains of the device were found in the alleyway.
Anyone with information which may aid the investigation is asked to contact West Midlands police on 101 or Crimestoppers anonymously on 0800 555 111.
Press Association, 27 June 2013
Update:  See "Walsall mosque bomb suspect, 75, bailed", BBC News, 28 June 2013