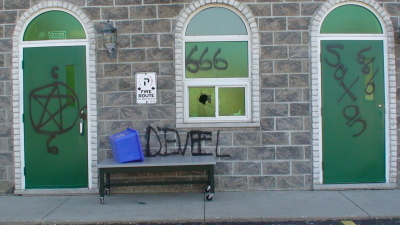 Damage totalled more than $160,000 in a string of vandalism incidents – including the spray-painting of a Waterloo mosque – carried out by a young man and several friends.
Jesse Coleman, 20, admitted his role in the crimes Monday after pleading guilty to charges including break and enter, arson, mischief and theft.
The most destructive incident took place in April 2010 when Coleman and a youth set fire to a new house still under construction at a subdivision on West Park Crescent in Waterloo.
Coleman and the same teen also smashed windows and spray-painted offensive graffiti on the mosque of the Muslim Society of Waterloo and Wellington Counties on Erb Street West in Waterloo. Included were pentagonal symbols and the numbers 666, often referred to as a sign of the devil.
Damage in that case was just over $3,000, but it prompted shaken members of the mosque to spend another $7,000 to $8,000 on new security measures. "They considered it hate graffiti," Crown prosecutor Marg Janzen told Kitchener court.