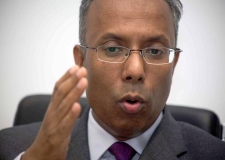 Tower Hamlets' police chief is in the middle of two days of talks with community leaders over whether the Met should apply to the Home Office to ban the planned English Defence League march in Whitechapel on September 3.
It follows threats by Tower Hamlets mayor Lutfur Rahman that he will take the Met Police to the High Court if they do not make the application.
Chief Insp Paul Rickett is due at the Town Hall today (Thursday) for a meeting of the Community Contingency Planning and Tension monitoring group. It follows a meeting yesterday with the Independent Police Advisory group held at his Bethnal Green office.
"The EDL tell us if they're banned they'll implement a series of unannounced, sporadic demonstrations," he told the Advertiser. "A ban could mean an EDL demo in the East End that would be a massive challenge to the police – I don't know if I have the resources to cope."
The EDL applied weeks ago under the law to demonstrate and is currently negotiating the route and how the march will be managed. "We can request the Home Office for a ban only if they refuse our conditions," Mr Rickett warned. "The EDL say they'll submit application after application to stage a march if we seek a ban – there could be a sustained challenge."
But he warned a Home Office ban on an EDL march would be an "own goal" which would also stop United East End coalition's counter march against the EDL planned for the same day.
The mayor of Tower Hamlets has been negotiating with Scotland Yard this week after he publicly warned the Metropolitan Commissioner on Friday that he will go to court unless an application is made by Monday.
Mr Rahman said: "I will instruct lawyers to go to the High Court and seek injunctive relief if the police fail to act. We will not let the EDL or any other bunch of extremists divide our community." He challenged Home Secretary Theresa May to use her powers to stop the EDL coming to Whitechapel on grounds of public safety.
But no decision had been made by yesterday (Wednesday) by Scotland Yard's Public Order Office on a ban – despite a 25,000-name petition to stop the EDL handed in last week. The Town Hall yesterday said: "We are still negotiating with the police and our own lawyers."