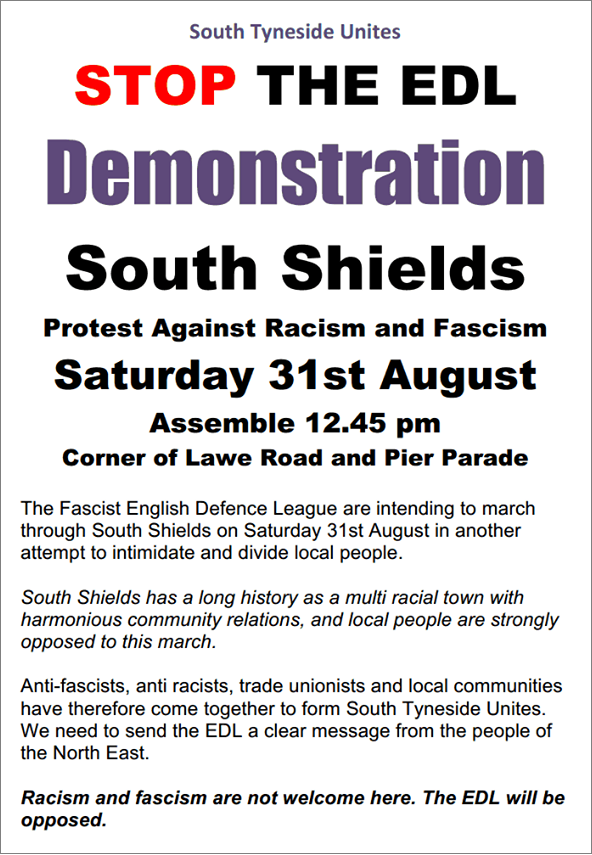 "Not in our backyard!" That was the overwhelming view of the people the Gazette questioned over today's march through South Shields by right-wing extremists.
Members of North East Infidels (NEI) and the English Defence League (EDL) were parading from the town's Fowler Street to Pier Parade, where a rally was being staged. They were to be met by representatives of the newly-formed South Tyneside Unites Against Fascism (STUAF), a group set up specifically in response to the rally.
Concerns have been raised that the rival demonstrations are a "recipe for trouble". Last night Northumbria's crime commissioner Vera Baird and town MP Emma Lewell-Buck were meeting members of the local community to allay fears.
Meanwhile, Chief Superintendent Ian Dawes, of South Shields police, has pledged that "public safety is our absolute priority", adding: "Our aim at all times is to facilitate these events and ensure they pass off peacefully with the minimum of disruption." The exact cost of policing the rally and counter-demo is not known – but it won't come cheap.
Some believe that in a democracy everyone should have a right to express their views – no matter how disagreeable those opinions may be. But on the streets of King Street, South Shields, we found little support for that stance.
Retired businessman Jeff Dawson, 71, from South Shields, said: "I saw a similar rally in Newcastle earlier this year and the police managed to keep both factions apart. All we can hope is that this goes off peacefully. At that rally I looked at both sides. That's what disturbs me, you have the extremists on both sides. I believe in the phrase 'live and let live'. We have had a Muslim community in South Shields for centuries. It's a shame South Shields is being targeted in this way and that such a dangerous situation is being created. I'll be avoiding it."
Jobseeker Alan Cutts, 27, from Simonside, South Shields, agreed. He said: "It is is a recipe for trouble and it's the last thing that this town needs. This has absolutely nothing to do with South Shields or the people who live here." Retired railroad welder Richard Patterson, 79, from Whiteleas, South Shields, added: "What is the advantage to the average person in South Shields of this rally? None at all. We don't want them here."
Former floor layer Paul Kelly, 54, of Boldon Colliery, "disagrees completely" with the EDL's views, but believes it has a right to express them. He said: "They should be able to express their views, that's what a democracy is about. The same goes for the counter-demonstrators." Sales assistant Lewis Courtney, 21, said: "South Shields is like a ghost town, shops are closing left, right and centre. This is the last thing it needs. The last thing we need is trouble. It should have been banned."
Student and part-time waiter Alamin Firyz, 23, from Ocean Road, South Shields, upheld the rights of the marchers. He said: "The march is legal so it must be allowed to go ahead. I have no problem with that. I have faith that the police will be able to ensure there is no trouble."