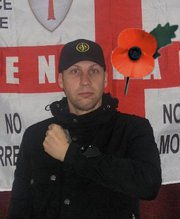 A Lincolnshire man whose racist abuse caused two children to "cling to their parents in fear" has been banned from attending any public meeting organised by right-wing group the EDL, police have said.
Shane Overton, 38, of Parker Avenue, Lincoln, was given a 10-year Criminal Anti-Social Behaviour Order (Crasbo) at Doncaster Crown Court on Wednesday. Lincolnshire Police said he was issued with the order after attending an EDL demonstration in Newcastle last year.
A spokesman said Overton pleaded guilty to a racially-aggravated public order offence after an incident on a train at Doncaster on May 29 last year, when he was arrested by British Transport Police.
The terms of the order mean he cannot travel on any public railway or enter any railway station, contact the victims in the case or knowingly participate in, organise or control any demonstration, meeting gathering or website concerning the EDL.
He is also banned from entering or loitering outside any mosque, Islamic prayer room, meeting room, school, cultural centre or festival site.
Press Association, 10 March 2011
See also Lincolnshire Police news release, 10 March 2011
Over at the EDL Forum Overton's comrades have been offering heartfelt expressions of sympathy and solidarity:
"Shane is a staunch EDL'er, a true patriot"
"should get a medal at least for shouting at muzzies"
"£500 and a 10 year ban for an Englishman who hardly does anything wrong"
"The next step in the chain will be arresting homecoming troops. The charge???? Bearing arms against muslims!!"
"appeal against it, it cannot be racially motivated offence saying allah is a pig"
Etc. etc.