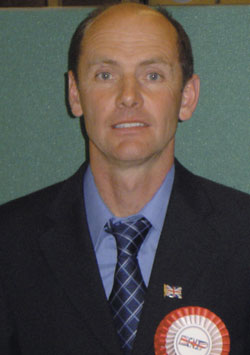 County Hall says it is powerless to compel a councillor do training he was told to undertake for sending out a leaflet criticising Muslims.
Councillor Graham Partner was censured "in the strongest possible terms" by Leicestershire County Council's standards committee this summer for undermining good race relations and told he would have to have equality training.
However, since the standards hearing on June 27, Coun Partner, who represents Coalville as an independent, has declined to do the training.
Coun Partner, who was elected as a British National Party candidate before quitting the party, was censured for a new year message he circulated to more than 5,000 voters in Coalville.
It featured part of an article from a national newspaper and said victimhood "comes easily" to the followers of Islam. It also made derogatory references to a Nigerian convicted of rape, Palestinians, the Third World and Pakistan and prompted complaints from two county council colleagues and two parish councillors.
At a recent meeting of County Hall's corporate governance committee, county solicitor David Morgan told councillors the authority had no power to take the matter any further.
The standards regime under which Coun Partner was censured was abolished in the summer. Political parties are now required to issue sanctions to their members. Coun Partner is not a member of a party so no action can be taken against him.