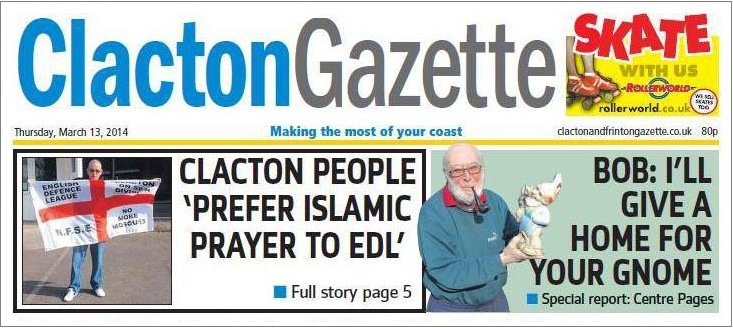 EDL's Islamic centre protest condemned
By James Dwan
Clacton Gazette, 13 March 2014
THE English Defence League has been accused of trying to hijack the controversy over plans for an Islamic community centre in Clacton.
Tendring Islamic Cultural Association got the green light to convert a former beauty salon in Pier Avenue into an education and prayer centre last week. Clacton EDL members were in the town centre on Saturday and staged a small demonstration outside the empty building.
A post on the EDL's Clacton Facebook page said: "I think we more than proved that we are not racist, far right or Nazis. We got great feedback from local residents and collected nearly 500 signatures to force the council to take this to the High Courts. To everyone who helped us today and the public of this great British town, we are here for the public and we will never surrender."
The Islamic centre was originally rejected by Tendring Council, but the decision was overturned by a planning inspector on appeal. The inspector said the community centre would help ensure the vitality of the town centre. But ward councillor Paul Honeywood said residents felt their views had been ignored.
Clacton's Labour parliamentary candidate, Tim Young, criticised the EDL. "I think most people in Clacton will not be impressed with the EDL trying to take advantage of a planning decision on appeal," he said.
"I don't think the EDL have much support in Clacton. Growing up in the town, I know people in Clacton are friendly and welcoming and think the exact opposite of what the EDL stand for. If most people in Clacton were asked, I'm certain they would prefer an Islamic prayer and community centre than EDL supporters in Christmas Tree Island."
A police spokesman said a group of about 20 demonstrators were seen in Pier Avenue shortly before 2pm by an off-duty policeman and community support officer. The spokesman said: "The 20 demonstrators raised a few flags. There were no scuffles and no arrests."
---
Clacton EDL moved in on the campaign against Tendring Islamic Cultural Association at an early stage. Last year a local group supporting the Islamic centre (originally No Objection To The Proposed Muslim Community Centre and now known as the Clacton Respect Group) exposed the role of local EDL leader Brian Shard in heading the anti-mosque agitation and described the No Mosque in Pier Avenue campaign as "merely an EDL puppet group". In May 2013 the local press reported:
It is feared a campaign to stop an Islamic Centre opening in Clacton was hijacked by the EDL.

Brian Shard spoke on behalf of the No Mosque in Pier Avenue group at Tendring Council's planning meeting.

Hacking group Anonymous included details of a man called Brian Shard when it posted a list of EDL supporters online on Wednesday. Twitter and Facebook accounts belonging to a man called Brian Shard from Clacton describe him as an EDL patriot.

On Wednesday a message posted on Facebook said "still buzzing after council refused permission for building of mosque Clacton".

Terry Davis from Clacton said "It begs the question do we know the campaign represented the genuine interests of residents or was it hijacked by the EDL for its own agenda".

During the meeting Mr Shard said many people considered the location opposite a church to be deliberately provocative.
Sometimes the EDL claim that they are against "Islamic extremists" rather than Muslims, but Shard doesn't bother maintaining this pretence. On Twitter he openly refers to Muslims as "Muzrats", and one of his Facebook likes is the Ban Islam in Britain campaign. It is clear that Shard's objection is not just to a particular Islamic centre – he is hostile to the presence of a Muslim community in Clacton and rejects their right to practise their faith.
This hasn't prevented the constituency office of local Tory MP, Douglas Carswell, from agreeing to a meeting with Shard and listening to his objections to the Islamic centre, according to Shard's account: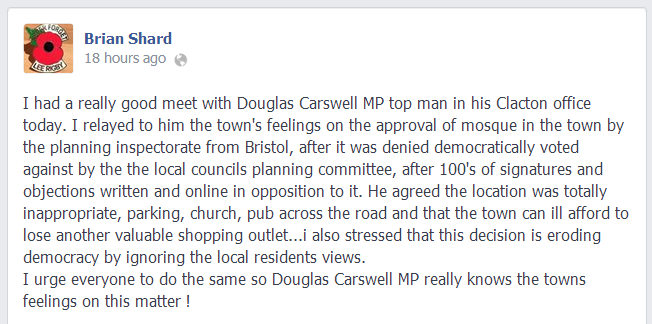 Douglas Carswell's constituents might like to contact him and draw his attention to the fact that his office has been holding apparently friendly discussions with a vicious bigot like Shard. No MP would agree to such a meeting with a rabid antisemite who objected to a synagogue. A rabid Islamophobe campaigning against an Islamic centre should be treated no differently.