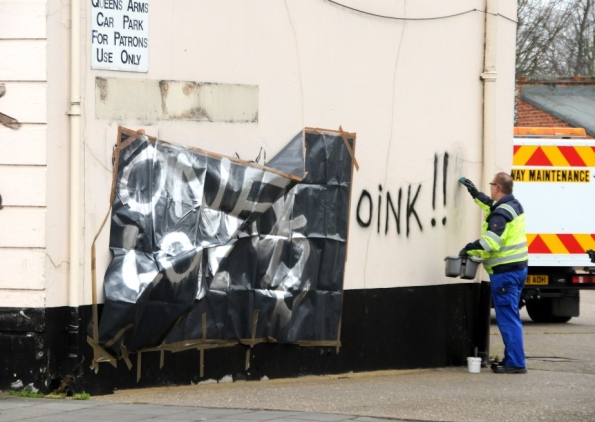 Anti-Muslim graffiti being removed from the wall of the Queen's Arms
The president of West Norfolk Islamic Association is hoping to build bridges after community centre plans were passed. Azam Gabbair said he was "overwhelmed" with West Norfolk Council's decision to approve a change of use application for the former Queen's Arms in London Road.
During today's planning committee meeting, right-wing activist Stephen Tweed was stopped from speaking after he strayed into religious and cultural issues. An earlier motion to refuse permission due to traffic congestion and the loss of a pub was lost before approval was finally granted.
The association wants to use the site as a venue for prayers, children's studies, meetings and social gatherings.
After the meeting Mr Gabbair said: "I am overwhelmed and very pleased, not only for the West Norfolk Islamic Association but for the wider community. This will hopefully build bridges. We are here to promote peace and welcome."
During the meeting Mr Gabbair said that this is a multi-cultural society and stated that the centre was self-funded. He was stopped from speaking after his comments, which included discussing the association's charity work, stretched beyond the three-minute limit.
Mr Tweed said he objected due to the congestion, the size of car park and that there are two existing community centres nearby. He said that it was contrary to English law to spread Islamic doctrine. Mr Tweed said: "They call this place a community centre for the people of the community. What it really means is mosque for the exclusive use of Muslim males."
Traffic issues were raised by ward member Lesley Bambridge and June Leamon while Michael Tilbury said the pub was lost because it wasn't used by the community.
Chris Crofts raised concerns about the noise created by a call to prayer and David Johnson said he was shocked by Mr Tweed's comments. A motion to defer the application for the travel plan to be sent in was proposed by David Collis but lost. Paul Foster proposed that the application be refused.
The recommendation to approve the community centre was approved with nine votes in favour and eight against.
See also "King's Lynn Islamic centre: Queen's Arms plans approved", BBC News, 30 April 2012
Tweed's bizarre assertion that it is contrary to English law to spread Islamic doctrine is taken straight from Gavin Boby of the Law and Freedom Foundation (aka "Mosquebusters") who presumably gave him advice on formulating his objections to the Islamic community centre.