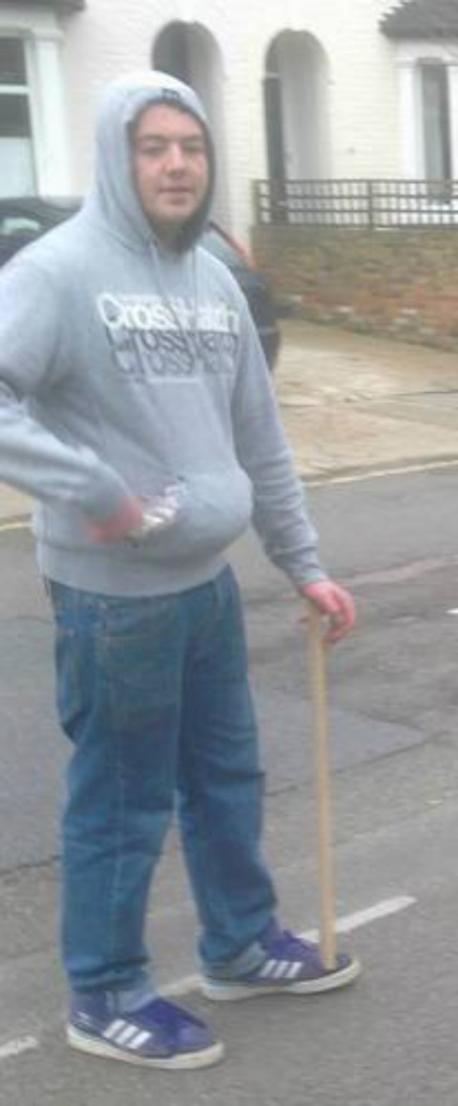 A jury has been shown a photograph of a man wielding a stick outside Kingston Mosque moments before an attack by masked and hooded men.
Henry Hunter, 19, denies violent disorder and racially and religiously aggravated criminal damage, after a group of men targeted the mosque in East Road.
At Kingston Crown Court, a jury of eight women and four men heard how Mr Hunter took part in a protest march through Kingston town centre on November 21, 2010.
Prosecutor Anthony Montgomery said that although the march passed without incident, several men who had been captured on CCTV during the protest later threw sticks, bottles and rashers of bacon at the mosque, and damaged a sign attached to the building.
Photographs allegedly showing Mr Hunter, of Kingston Crescent, in Ashford, among the group were shown to the jury. The album included a photo taken in East Road by David Morris, who was jailed in April for the attack.
It showed a man said to be Mr Hunter holding a stick, and standing next to Alfie Wallace, who is also serving a prison sentence. Describing the image of Mr Hunter and Wallace, Mr Montgomery said: "It shows Mr Alfie Wallace and it shows this defendant and he is carrying, importantly, a stick or a piece of wood."
Mr Montgomery told the jury: "A group acting as one unit began laying siege to the mosque, and all of it was completely disgraceful conduct. You will hear of beer that was thrown, bacon that was thrown, sticks that were thrown and a sign that was damaged. There was nobody who was taking a back seat. Those that were there and those with sticks were getting stuck in."
Kingston Guardian, 9 November 2012
See also "Hunt not over for Kingston mosque attackers", Kingston Guardian, 6 April 2012
And "Man handed himself in to police over Kingston mosque attack", Surrey Comet, 13 April 2012
During their assault on Kingston Mosque the attackers chanted"E, E, EDL". You can see Henry Hunter in this photo of the demonstration that preceded the attack, holding an EDL flag.