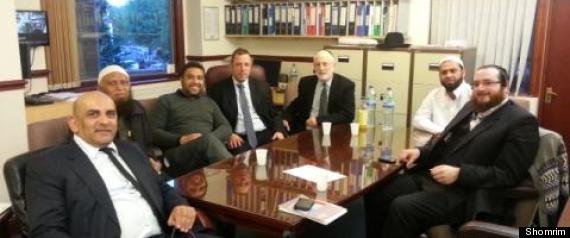 A Jewish "police force" has offered protection to mosques in Hackney, following a spate of violent attacks on mosques. Shomrim, a uniformed Jewish patrol in Stamford Hill who are trained by the Met, patrol the area regularly looking for anti-Semitic hate crimes, and general disorder in the neighbourhood.
The volunteer group, similar to a Neighbourhood Watch, are trained to safely track and detain suspects until police arrive, and run a 24-hour hotline for those in the area to report attacks. The group was started by Jewish New Yorkers angry at lengthy police response times after crimes were reported.
Mosque elders met this weekend with Shomrim in the Cazenove Road Mosque and Community Centre to discuss cooperation between the two communities.
The offer of security help was the brainchild of local Lib Dem councillor and strictly Orthodox Jew Ian Sharer, who was one of the founders of the Muslim-Jewish forum.
"In our ward, the three councillors are two Charedi Jews, and one religious Muslim. We have been friends for many years, and we get on every well. This seemed like a natural thing to do. This is a very serious situation, and so I thought, why not call my friends from Shomrim? We wanted to see if we could offer them protection and also security lessons.
"When we met, everyone got on like a house on fire, we all got on so well. So now when Shomrim go out on patrol, they go past a number of different mosques to check they are OK. And we have given out our number so that Muslim people can call us if they need."
Chaim Hochauser, one of the two community leaders of Shomrim, told HuffPost UK the co-operation was "unprecedented" and hoped it was "just the beginning of a long term partnership between the two communities."
Violent attacks on mosques and muslim buildings have been on the rise since the murder of Drummer Lee Rigby in Woolwich, including an arson attack on a community centre in Muswell Hill and a homemade explosive device found at a mosque in Walsall.