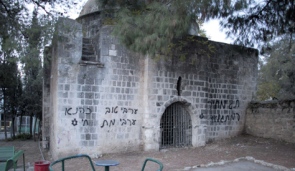 Arsonists set fire to a deserted mosque in central Jerusalem during the night between Tuesday and Wednesday.
There was no structural damage reported and the damage mainly consisted of the blackening of walls and graffiti reading "Price Tag," and anti-Islamic phrases.
The Nebi Akasha mosque, apparently built under the Ayyubid dynasty in the 12th century with additions made under the Mamluk dyanothernasty in the 13th century. It is believed that the mosque was founded on the burial site of combatants in Saladin's army, though an ancient tradition designates the site as the place where Akasha, a friend of the Prophet Muhammad, was buried.
Graffiti spray painted on the historical site included inscriptions such as "Mohammad is Dead," "Mohammad is a Pig," and "Price Tag."
See also "Arsonists torch Jerusalem mosque", Associated Press, 14 December 2011
And Dan Ephron, "Who's burning Palestinian mosques in the West Bank and Israel?", Daily Beast, 13 December 2011
Update:  See "Israel right-wing activists clash with Jerusalem police following price tag attack", Haaretz, 14 December 2011