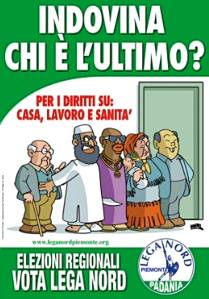 Muslims in Italy have written to the country's president Giorgio Napolitano claiming their constitutional rights are being violated by the anti-immigrant policies of the Northern League party.
A lack of mosques and halal food outlets in the north were especially serious problems, said the letter to Napolitano, written by the Union of Islamic Communities in Italy (UCOII).
"I write to you as the custodian and guarantor of the Italian constitution the Italian's Republic's highest judge, to draw to your attention the day-to-day difficulties faced by Muslims in a large area of the country," said the letter signed by UCOII's president Ezzeddin Elzir.
Law-abiding Muslim immigrants and foreign residents who have striven to integrate in Italy's northern regions and who do not present any real security threat, are being treated as second-class citizens, according to UCOII.
"Chiefly in the north of Italy, their religious freedom and personal dignity, upheld by the constitution and international conventions to which our country is a signatory, are gravely compromised," the letter continued.
The letter did not specifically name the Northern League, which control several regions and most local councils in the north of Italy, but referred to "a certain political hostility made worse by the irresponsible action of certain local administrations."
"Fundamental rights are being denied, such as places of worship and the availability of food prepared according to Muslim precepts," the letter stated. "There is barely a Muslim community in northern Italy that does not come up against outright bans on mosques arrogantly imposed by local councils who malevolently invoke petty local bylaws to deny a basic constitutional freedom."
UCOII asked for specific intervention from Napolitano over a school in Adro, in the Lombardy province of Brescia that has said it will only exempts Muslim pupils from eating pork if they have an allergy to it or on other health grounds.
Via Islam in Europe