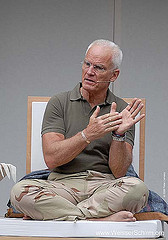 The biggest Tibetan Buddhist meditation centre in London will be created following planning approval – despite protests from Muslim and Christian groups.
On Tuesday evening, Lambeth council's planning committee approved the plans for the former Beaufoy Institute, in Black Prince Road, Kennington, to become the Diamond Way Buddhism (DWB) organisation.
However, more than 40 protesters from the Lambeth Muslim Forum and the Lambeth Interfaith Network protested outside Lambeth Town Hall, in Brixton Hill amid claims the organisation is anti-Muslim and anti-Christian. The meeting room was so packed that the protesters were denied entry and left to protest outside.
Objections to the new use of the Grade II listed building also came from the Lambeth Against Racism and Islamophobia group and Vauxhall MP Kate Hoey.
DWB is a the world's largest lay Buddhist organisation, following the western Karma Kagyu lineage, under the Lama Ole Nydahl.
The controversy has arisen from comments made by Lama Nydahl [pictured] during interviews and online, on "radical Islam" and scandals in Christian churches.
Toaha Qureshi, a member of the Lambeth Muslim Forum and trustee of the Stockwell Mosque, in Stockwell Green, believed Lama Nydahl's comments amounted to "hate speech".
He said: "We are not against Buddhists because it is a peaceful religion. We are protesting against this particular faction of Diamond Way because we believe their leader preaches hate. We were not allowed into the meeting. We don't feel that the council has consulted with community leaders. If they had done that, we would not be here today."
South London Press, 10 July 2012
Via ENGAGE
---
DWB trustee Steve James is quoted as saying: "While Diamond Way Buddhism is not political, one of our teachers, Lama Ole Nydahl, has made personal statements on world affairs in press interviews. The occasional comments he has made about radical Islam have been grouped together and circulated in order to cause offence."
But Ole Nydahl is the founder and leader of Diamond Way Buddhism – an organisation that functions as a classic cult around Nydahl's personality, if allegations by disillusioned former members are to be believed. So the DWB spokesperson's description of Nydahl as merely "one of our teachers" who has happened to make some "personal statements" on political issues is disingenuous to say the least.
Nor have Nydahl's statements been directed solely against "radical Islam", as the DWB spokesperson claims. In a 2008 interview, asked about his attitude to the Abrahamic faiths, Nydahl replied:
"The Abrahamic religions, the ones that follow our constitution, treat women well, don't blow up people … Judaism and Christianity are fine. Islam, I warn against. I know the Koran, I know the life story of Mohammad and I think we cannot use that in our society today. People like the Sufis and Bahá'ís are different, right. They are usually being killed as soon as the mainline Muslims come in, they start killing the other guys."
In a 2007 interview with Danish Islamophobe Lars Hedegaard, Nydahl described Islam as "a totalitarian and fascist system" and compared the Prophet Muhammad to Hitler and Stalin. In 2009 Nydahl was quoted by Ned May's Gates of Vienna website as stating: "I see a big attack from Islam, a great, great danger from Islam…. Nobody has ruined as much for us as the Muslims."
A Polish correspondent who attended a lecture by Nydahl in Warsaw a couple of years ago sent us the following account:
"I had heard some comments previously that suggested that Nydahl held Islamophobic views, but I was frankly shocked as to the depth of his anger and hatred against Islam and Muslims, and the way he uses his position to preach much misinformation and factual inaccuracies regarding Islam and Muslims and to incite hatred against Islam amongst his followers."
That report was sent in response to an Islamophobic campaign in which followers of Diamond Way Buddhism co-operated with elements of the far right in opposing the construction of a new mosque in Warsaw.