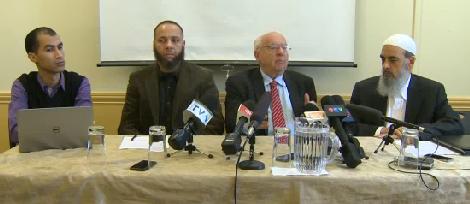 Islamophobia has surged in Quebec since the introduction of the proposed Charter of Quebec Values, the Muslim Council of Montreal warned Tuesday, with an alarming rise in attacks, specifically against Muslim women.
Muslims made 117 complaints of verbal or physical abuse to a local anti-Islamophobia group between Sept. 15 and Oct. 15, compared to a total of 25 complaints (or 3.5 complaints per month on average) in the nine-month period of January to September 2013.
This spike coincides with the kick-off of the debate on the Parti Québécois government's proposed charter of values, which proposes to prevent public servants from wearing "ostentatious" religious symbols, including the hijab and niqab.
"Premier Marois's introduction of the charter of values has unleashed an alarming number of xenophobic and Islamaphobic attacks," the council's president, Salam Elmenyawi, told a press conference.
Elmenyawi said he was himself told to "Go home" by a man who accosted him on the street enroute to an ecumenical meeting of clergy from different religions on the tense social atmosphere created by the values charter.
But by far the greatest brunt of Islamophobia is being borne by women, who accounted for 114 of the 117 complaints.
Bouazza Mache, head of the local polling firm MarkEthnik, said an internet survey of about 600 local Muslims shows 43 per cent find the current social atmosphere very tense and 42 per cent find it tense, with only 10 per cent describing it as normal.
Constitutional lawyer Julius Grey, representing the council, compared the proliferation of anti-Muslim acts and statements to the targeting of Jews in the Nazi era.
Montreal Gazette, 5 November 2013
See also La Presse, 5 November 2013
And "Muslim Council denounces attacks", Global News, 5 November 2013
Also "Controversial PQ values charter set to be tabled", Globe and Mail, 5 November 2013
Update:  See also "Quebec Muslim women 'scared to walk alone'", CBC News, 6 November 2013