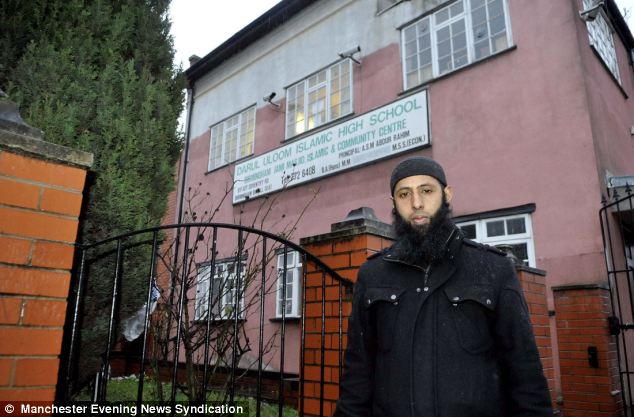 An Islamic school at the centre of a documentary row will close tomorrow amid safety fears. Teachers at the Darul Uloom Islamic High School, in Small Heath, Birmingham, have held meetings with police chiefs and fear that youngsters could be targeted by the far-Right.
The Dispatches documentary, Lessons in Hatred and Violence, aired tonight and showed footage of a preacher making offensive remarks about Hindus and ranting: "Disbelievers are the worst creatures".
But teachers at the school insist the undercover reporter captured an isolated incident where a 17-year-old senior student was talking to pupils. They have provided a letter which shows that he was expelled for his views last August – five months before the school was made aware of the tapes by producers.
A Birmingham faith leader has now backed the school's record of teaching tolerance and MP John Hemming said he believed the documentary was irresponsible and had put schoolchildren at risk.
The school's head of curriculum Mujahid Aziz said the decision had been to bring forward the school's half-term by a week after meetings with police. Pupils were being told not to return to classes until the start of March.
"They filmed for six months and managed to collect a handful of comments which promote intolerance," said Mr Aziz. "We were aware of the views of this 17-year-old student and we dealt with him by exclusion straight away – before we even knew that we were being filmed. What people will see in that clip is completely contrary to what we teach at the school about harmony and awareness of different faiths.
"Our concern now is for the safety of children and people coming to the mosque because we are worried that some people will get completely the wrong impression once they have watched this programme. After meeting with the police, we are bringing the half-term forward and we have been advised that there should be plenty of staff around on Monday night as a precaution."
Birmingham MP John Hemming (Lib Dem, Yardley) said Channel 4's portrayal of the school was irresponsible.
"If Channel 4 thinks this is a school where racism and intolerance is accepted in any way, they have got their facts seriously wrong," he said. "They have already had hate mail and now they are having to close for the safety of their pupils. This kind of documentary is ideal fodder for the EDL. Channel 4 is putting the safety of children at risk by criticising a school which is doing its job properly."
Mr Hemming was backed by Yann Lovelock, a Buddhist who sits on the executive board of Birmingham Interfaith Council. He said: "They have gone out of their way to make other faiths feel welcome and I have been invited to the school several times to speak to pupils about Buddhism. As far as I can see, they do everything they can to promote tolerance and understanding and I am happy to work with them."
See also the Darul Uloom Islamic High School press release.
Read the school's response to the documentary makers, Hardcash Productions, here.
Update:  See "Dispatches Islamic school to complain to Ofcom", BBC News, 15 February 2011