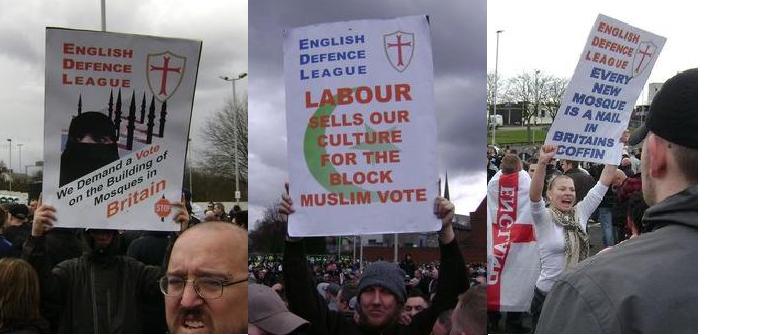 MPs expressed concern last night after it emerged that far-right activists are planning to step up their provocative street campaignby targeting some of the UK's highest-profile Muslim communities, raising fears of widespread unrest this summer.
Undercover footage shot by the Guardian reveals the English Defence League, which has staged a number of violent protests in towns and cities across the country this year, is planning to "hit" Bradford and the London borough of Tower Hamlets as it intensifies its street protests.
MPs said the group's decision to target some of the UK's most prominent Muslim communities was a blatant attempt to provoke mayhem and disorder. "This group has no positive agenda," said the Bradford South MP, Gerry Sutcliffe. "It is an agenda of hate that is designed to divide people and communities. We support legitimate protest but this is not legitimate, it is designed to stir up trouble. The people of Bradford will want no part of it."
The English Defence League, which started in Luton last year, has become the most significant far-right street movement in the UK since the National Front in the 1970s. A Guardian investigation has identified a number of known rightwing extremists who are taking an interest in the movement – from convicted football hooligans to members of violent rightwing splinter groups.
Thousands of people have attended its protests – many of which have descended into violence and racist and Islamophobic chanting. Supporters are split into "divisions" spread across the UK and as many as 3,000 people are attracted to its protests.
The group also appears to be drawing support from the armed forces. Its online armed forces division has 842 members and the EDL says many serving soldiers have attended its demonstrations.
In undercover footage shot by Guardian Films, EDL spokesman Guramit Singh says its Bradford demonstration "will be huge". He adds: "The problem with Bradford is the security threat, it is a highly populated Muslim area. They are very militant as well. Bradford is a place that has got to be hit." Singh, who was speaking during an EDL demonstration in Dudley in April, said the organisation would also be targeting Tower Hamlets.
A spokesman for the EDL confirmed it would hold a demonstration in Bradford on 28 August because the city was "on course to be one of the first places to become a no-go area for non-Muslims". The EDL has already announced demonstrations in Cardiff and Dudley.
The EDL claims it is a peaceful and non-racist organisation only concerned with protesting against "militant Islam". However, over the last four months the Guardian has attended its demonstrations and witnessed racism, violence and virulent Islamophobia.