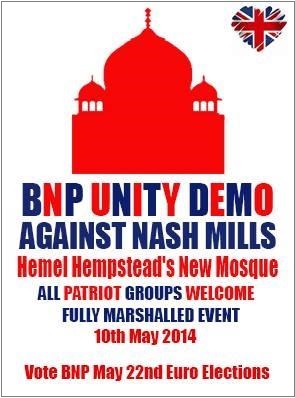 Dacorum's police chief has promised his officers will ensure 'minimal disruption' to the community during the BNP's planned protest in Hemel Hempstead on Saturday.
Members of the British National Party are planning to demonstrate at the now-derelict site of the Nash Mills Methodist Church on Barnacres Road, which pre-application plans suggested could house a new mosque.
According to Dacorum Borough Council planning officers, no formal applications for a Muslim house of worship have been submitted, or are indeed expected, at this time.
Chief Insp Glen Channer said: "We are aware of the British National Party's intention to stage a demonstration in Hemel Hempstead. "We are currently in dialogue with the British National Party in order to facilitate a peaceful protest, whilst ensuring that disruption to the local community is minimised."
Mr Channer also reassured those living in the area that there will be additional police on duty on the day, to assist in any policing needs that may arise.
BNP organiser for the eastern region Chris Livingstone is leading the event, but said: "We do not anticipate any trouble,"
A counter-demonstration by the Unite Against Fascism group is also expected to take place on the same day.
---
The protest is being promoted by a Facebook page entitled "BNP UNITY Demo against Hemel Hempstead's New Mosque". It states:
"This new Mosque build is not needed in Hemel Hempstead, this page is for the BNP, BNP Voters & Supporters, All True Nationalists and anti Islam groups to stand together to oppose the progressive Islamification of Britain and THE WORLD around us, this is a BNP Demonstration all groups and movements welcome, no hijackers no drunks, this event will be marshalled, if you will stand with US We will Stand With YOU."
Update:  See "BNP protest against 'mosque plan' meets opposition", Islamophobia Watch, 10 May 2014