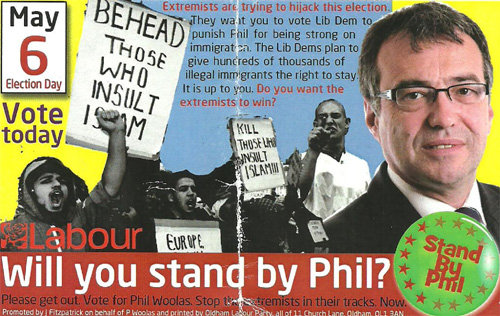 Over at Indigo Jo Blogs, Yusuf Smith draws our attention to this disgraceful leaflet distributed by Labour MP Phil Woolas during his recent election campaign in the Oldham East and Saddleworth constituency.
Two days before polling day the Lib Dem leader of Oldham Council lodged a complaint with the Equality and Human Rights Commission about Woolas's election material. "I believe that this type of inflammatory literature is incredibly detrimental to community relations and promoting equality", he wrote. And who could disagree?
The defeated Lib Dem candidate Elwyn Watkins, who lost to Woolas by only 103 votes, has challenged the election result on the basis that false claims about him were made in Woolas's leaflets, including the allegation that he appealed for support from "Muslim extremists". A court hearing will be held on 13 September to decide whether the election should be re-run.