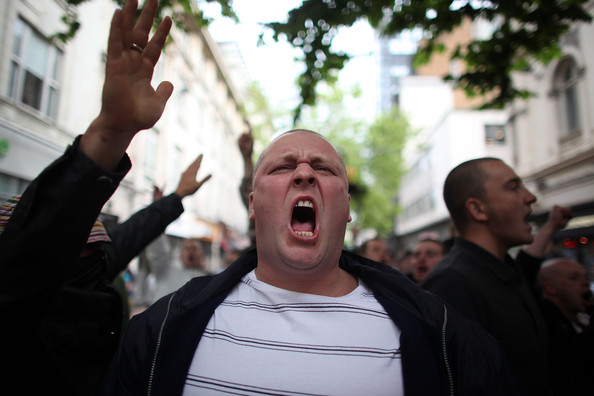 Home Secretary Theresa May has authorised a blanket ban on marches in Bradford on August 28 – the day the English Defence League (EDL) was planning a protest.
The far-right group had intended to march down Manchester Road, one of the biggest Asian areas in the city, and Unite Against Fascism (UAF) had planned a protest in the city on the same day.
A Home Office spokesman said: "Having carefully balanced rights to protest against the need to ensure local communities and property are protected, the Home Secretary gave her consent to a Bradford Council order banning any marches in the city over the bank holiday weekend."
The city council sought a marching ban following an 11,000-strong public petition and a formal request by West Yorkshire Chief Constable Norman Bettison. Mr Bettison said he was taking the action after considering the "understandable concerns of the community."
The EDL will still be able to stage a static demonstration, but Nick Lowles of the Hope Not Hate campaign insisted that a stationary protest was "far less likely to cause trouble" than racists marching through the city's densely populated Asian areas.
He said the ban was a victory for the people of Bradford and democratic pressure. "The Home Office did not want to ban the EDL march," said Mr Lowles. "They conceded the ban after almost 11,000 signatories were collected through organising on the streets, in the mosques and churches."
However UAF national secretary Weyman Bennett said that the ban would not be effective as the EDL, escorted by the police, would make a "de facto" march from Bradford train station to the city centre for their static protest.
He added that the UAF had been granted permission to peacefully celebrate multiculturalism by holding a rally in the city centre at the same time.