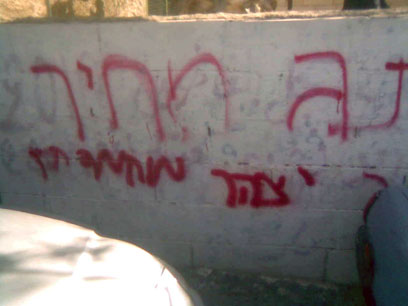 Attackers sprayed a West Bank mosque with anti-Islamic and pro-settler graffiti on Monday, a Palestinian official said, in an assault that bore the hallmarks of another raid by Jewish extremists.
The mayor of Bani Naim south of Hebron said that slogans in Hebrew sprayed on walls surrounding the village's Sahaba mosque included "curses against the Prophet Mohammed" as well as "price tag" and "Yitzhar youth," a reference to a hardline settlement and nearby outpost in the northern West Bank.
Mayor Radwan Manasra said that the mosque was on the village's southern edge, facing the settlement of Pnei Haver, about 3.5 kilometres (two miles) away.
It was the seventh suspected attack in as many days by ultra-nationalist Jews fighting government plans to dismantle wildcat settlement outposts by vandalising mainly Palestinian property, although they have recently struck at Israeli army bases and the homes and offices of leftwing Israelis.
It was the third mosque attack since Wednesday, one of which coincided with the demolition by troops of the Mitzpe Yitzhar outpost.