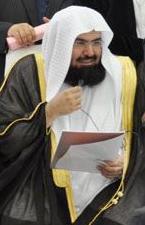 The imam of the Grand Mosque in Makkah told the world not to be afraid of Islam and Muslims, adding that Islam represents a message of peace, goodness and tolerance. Sheikh Abdul Rahman Al-Sudais made the announcement while delivering his Friday sermon at the Tauheedul Islam Mosque in Blackburn, Lancashire, UK.
In his sermon, Al-Sudais said: "Islam came to protect the interests of humanity, prevent evils and build bridges with all communities. It offers a great message of mercy and tolerance."
The Makkah imam urged Muslims living in Western countries to abide by the laws of the countries where they reside. "You should be a positive and constructive factor in the community you live and should not involve yourselves in activities that would undermine its security and stability," the Saudi Press Agency quoted Al-Sudais as saying.
Al-Sudais asked Muslims to learn from the life and teachings of the Prophet Muhammad (peace be upon him), who used to visit his Jewish neighbor. "When the Prophet died his armor was kept with a Jew as a security," he said, urging Muslims to establish good relations with non-Muslims. "This is the best way to attract them to Islam."
Al-Sudais said Muslims living in the West should serve as ambassadors of their religion. "You should uphold the great Islamic values while dealing with Muslims as well as non-Muslims and should not engage in any corrupt or unjust practices."
---
Last year, under the headline "Hate Sheikh's British tour sparks outrage", the Jewish Chronicle reported that the Board of Deputies had written to the Home Secretary demanding that Al-Sudais should be banned from entering the UK on the grounds that he was a raving antisemite whose presence "undermines British values of tolerance and respect".