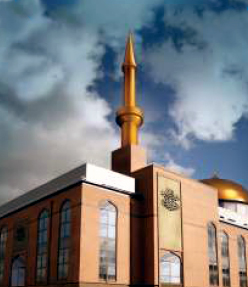 Harrow Mosque has called for a 9/11 protest to be banned just days after fresh violence in Birmingham saw 90 arrests.
Stop the Islamisation of Europe (SIOE) is holding a rally outside the building, in Station Road, on Friday and Unite Against Fascism (UAF) supporters will hold their own counter-demonstration alongside it. The English Defence League (EDL), which clashed with anti-fascists in Birmingham on Saturday, at one point advertised the event on its website. The rally is promoted on EDL's group on social networking website Facebook and there are fears the weekend's violence could be repeated in Harrow.
Haroon Sheikh, chairman of Harrow Central Mosque, said: "We would request that the local authority and the police try to put a stop to it. The concern we have is with a large congregation. It's very difficult to control what people would want to do on the day. We would have 200 to 300 people coming here for prayers on a Friday. Emotions will be high if it's provoked, but we will have the police and we will have stewards here."
SIOE say they are not racist and will not tolerate racism at the rally, but describe themselves as Islamaphobic, saying it is "the height of common sense". The Harrow Times has asked the English Defence League (EDL) for clarification about whether their members will attend the protest and is awaiting a response. The Harrow Times has requested a response from Harrow Police and Harrow Council and is awaiting a reply.
Harrow Times, 8 September 2009
---
See also the Times, 8 September 2009 and Islam Online, 8 September 2009
Update:  See also "Harrow Police: 9/11 mosque protest cannot be banned", Harrow Times, 8 September 2009
The police do in fact have a point. Under Section 13 of the Public Order Act they can apply to the Home Secretary for an order banning "public processions", but they have no power to ban static demonstrations.
However, under Section 14 of the POA the police have the authority to "give directions imposing on the persons organising or taking part in the assembly such conditions as to the place at which the assembly may be (or continue to be) held, its maximum duration, or the maximum number of persons who may constitute it", if this is necessary to prevent "serious public disorder, serious damage to property or serious disruption to the life of the community".
So the police do have the power to prevent this provocative protest taking place outside Harrow Mosque.
Further update:  Regarding Harrow Central Mosque, which it calls "the house of hate", SIOE states: "This will be the largest mosque in England with minarets 40 metres high. That is not integration that is triumphalism. It is Harrow now, the next place could be your community."