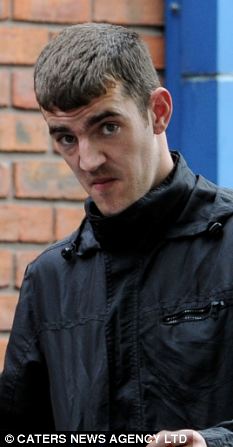 One of the men accused of setting fire to a Stoke-on-Trent mosque was a member of the British National Party (BNP) and English Defence League (EDL).
Simon Beech was a serving soldier with the 2nd Battalion, The Yorkshire Regiment, based at Weeton Barracks near Preston, Lancashire, when he is alleged to have set fire to the City Central Mosque in Regent Road, Hanley, in the early hours of December 3 last year.
He is accused of entering the mosque, which was still under construction, with his co-accused Garreth Foster. The Crown Prosecution Service allege the pair were responsible for starting a blaze on the ground floor and feeding a gas pipe upstairs, from a neighbouring property.
Beech, of Hilton Road, Hartshill, and Foster, aged 28, of Hartshill Road, Stoke, deny arson.
Yesterday at their trial at Stoke-on-Trent Crown Court the jury heard Beech, aged 23, subscribed to Facebook and the EDL.
Peter McMaster, an intelligence researcher with Staffordshire Police, said on November 10, less than a month before the arson, Beech posted comments including "Let's start bashing skulls, dirty, rotten rodents, they breed like rats here, they need to die like rats" and "I say we need to start taking things into our own hands because they are running the place".
The next day he posted "Get as many heads as we can, go and smash some skull and take over Shelton".
And Beech said he "liked" a comment someone else posted – "Nuke all mosques". He also posted comments including "Time we took things into our hands," and "I say we put a stop to it before it's too late."
Also on November 11, Beech said: "The time has come we burn their place, burn the lot of them."
---
Meanwhile Beech's comrades in the EDL are declaring their solidarity with him: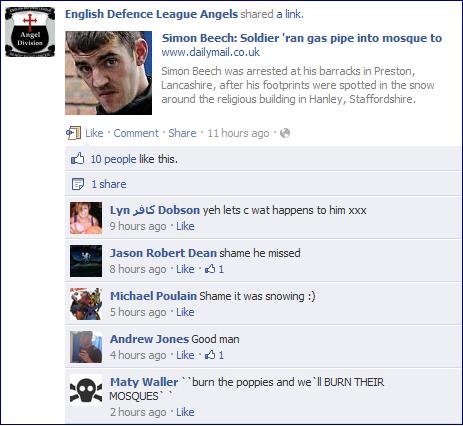 Update:  See "Pair deny mosque 'revenge attack'", Press Association, 7 December 2011
The court heard that Beech sent a text message to Foster a month before the fire asking him if he was "up for blowing that shithole up?" Giving evidence in his defence, Beech maintained that the message did not refer to the mosque, but was a reference to a foxhole in a field near his parents' home. Under cross-examination, Beech said he was in the vicinity of the mosque as smoke was seen coming from the building, but he denied any involvement in setting the fire. He claimed his views were not aimed at the whole Muslim community, but only at extremist individuals.
And if the jury believe that, they'll believe anything.