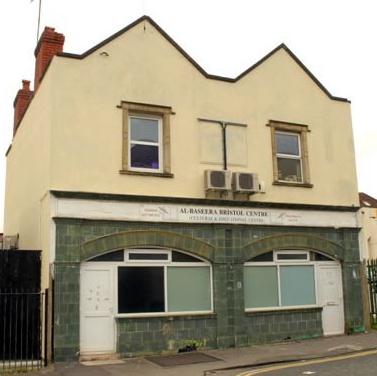 A man hung slices of ham on the railings of a Bristol mosque and placed pieces of the meat in the shoes of its worshippers while they prayed.
Jamie Knowlson was spotted running off to a nearby hostel, and when mosque staff followed they had offensive taunts shouted at them.
The 30-year-old's behaviour left the community of the Al-Baseera mosque on Wade Street in St Judes "disgusted and saddened".
After he was arrested Knowlson said he had no idea that putting ham in worshippers' shoes would be offensive, saying it was just a prank and a practical joke. But he later admitted to police that he had been fully aware of the implications. Knowlson, of Charlton Road, Kingswood, pleaded guilty to causing racially or religiously aggravated harassment last month at Bristol Magistrates' Court.
Magistrates sent the case to Bristol Crown Court for sentencing, and Knowlson could have faced up to two years behind bars. Instead he was given a six-month suspended sentence, only escaping prison because he returned to the mosque to apologise in person for his actions.
The court heard that at 6.30am on January 9 Knowlson had gone to the Al-Baseera mosque from Redwood House, a homeless hostel opposite. He was seen putting slices of ham from the hostel on to the railings and into the shoes of worshippers, which were left outside the mosque while they prayed.
CCTV showed him returning to the hostel, and the mosque's caretaker, Abdi Djmaa, followed to complain. As Mr Djmaa returned to the mosque he heard someone shouting "bad meat", "girls" and "the next visit will be harder". Police were called, and as officers and another man removed the ham, they heard laughter coming from the hostel.
Prosecuting at Bristol Crown Court, David Hunter said it had been a "premeditated offence" and that the Muslim community had been specifically targeted.
Bristol Evening Post, 6 June 2011
---
No doubt those intent on claiming that the courts discriminate in favour of Muslims will point to the fact that Knowlson was given a suspended prison sentence whereas Mohammed Hasnath, the youth recently convicted of posting up homophobic stickers in Tower Hamlets, was only fined. The reason for this disparity, however, is that Knowlson admitted that he intended to harass his victims but Hasnath denied intent. So Knowlson was charged under Section 4A of the Public Order Act which carries a possible prison sentence, whereas Hasnath was charged under Section 5 which only allows for a fine.
The flaw in the present legal position is that whereas there is a distinct offence of "racially or religiously aggravated" harassment under the Public Order Act, which specifies a heavier sentence, there is no such distinct offence if the harassment is aggravated by homophobia (just a general requirement to take that into consideration when sentencing). The LGBT community therefore has significantly weaker protection under the Public Order Act than that afforded to minority-ethnic and faith communities. Clearly this needs to be rectified. But it has nothing to do with Muslims getting a better deal from the law than non-Muslims.